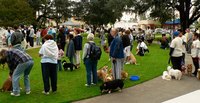 It is important that your dog obey you both in the privacy of your home and in the outside world. The best way to insure that he will do this under pressure is to practice with him in distracting and even distressing situations. However, this can be uncomfortable for both dog and owner, so you should take things slowly and carefully when training your puppy to ignore distractions.
Things You'll Need
Start out without any distractions. You should work with your puppy in a quiet room that is free of movement in your own house until he has mastered all the commands that you want him to learn in his first stage of training. Generally, these will be sit, stay, and come. Your puppy must understand these commands and be completely focused on you when you give them regardless of whether she receives a treat or not before you move on to the next step.
Add noise distractions in a familiar environment. Turn on the television, a radio or even open a window. You can also start training in more high-traffic areas of the house. You will need to reward good behavior with praise and treats until your dog has completely mastered your commands in the new environment.
Have a known person try to distract the dog. In the comfort of your yard or home, have a person known to you but not an authority figure for your dog try to distract the dog. This can be by running around, yelling or having a loud phone conversation. The person should not call the dog by name.
Take the dog into a distracting, public environment that is contained. Try training in a fenced area that is leash free at a park. Remember, this can be very hard for your dog because of all the interesting smells and other dogs, so you should start out with the training during low traffic hours.
Work with your dog in a real, live distracting environment. Take your dog to the beach, the park or walking in a crowded, public area. You will need to keep his leash on in most states to abide by leash laws. Still using the same commands you started out with, work with your puppy until he obeys no matter how distracting this busy environment can be.