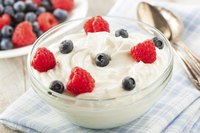 Live culture yogurt contains the living bacteria Streptococcus thermophilus and Lactobacillus bulgaricus. These bacteria, including others such as bifido bacterium bifidum and Lactobacillus acidophilus, ferment pasteurized milk, turning it into yogurt. According to the Linus Pauling Institute, the bacteria present in live culture yogurt may strengthen the immune system and help prevent digestive disorders. While all yogurt is produced by bacteria, some commercial brands undergo processing that kills the live cultures. For the maximum health benefits, choose yogurt that has a high level of bacteria per serving.
Look on the yogurt label for the "Live & Active Cultures" seal of the National Yogurt Association. The seal indicates that the product has been verified by the association as containing 100 million live cultures per gram of yogurt.
Check the label's ingredients for a list of live bacteria if the yogurt does not carry the National Yogurt Association seal. Not all brands of yogurt with a high concentration of live cultures have been approved by the association. Pick yogurt that provides information about the number of bacteria per gram, if possible.
Choose low- or nonfat live culture yogurt. Whole-milk products like regular yogurt are high in saturated fat and may contribute to an increased risk of heart disease.
Pick live culture yogurt that has no added sugar or that contains a low-calorie sweetener. Yogurt with added sugar contains more empty calories than plain yogurt.