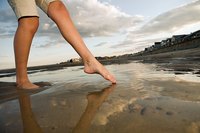 Stretch marks on the legs are usually caused by rapid growth or weight gain. They are usually white in color though new stretch marks can appear as red, pink or purple. Though stretch marks are usually flush with the skin, they can sometimes be raised up. These raised stretch marks are known as keloids. Zinc has been shown to have a positive effect on stretch marks and other body scars so aim to incorporate it into your diet. Leafy green vegetables and whole grains are good sources of zinc.
Things You'll Need
Body scrub
Cocoa butter
Dermatologist
Laser treatments
Chemical peel
Microelectronics
Exfoliate. Use a body scrub on your legs every other day. Exfoliation helps to remove dead skin cells and reveal younger, fresher skin below. You'll see an improvement in your stretch marks with regular exfoliation, particularly if they are new.
Apply cocoa butter to your legs. Cocoa butter contains naturally healing properties which have been shown to help reduce the appearance of stretch marks. It is also widely used to prevent stretch marks.
Ask your doctor about Retin-A creams. These creams are available via prescription and have been shown to help fade stretch marks. This is because Retin-A encourages cell regeneration which means new skin cells produce more quickly and replace the older, damaged skin cells.
Consult your doctor regarding laser treatments to treat stretch marks. Lasers have been shown to be the most effective means of fading stretch marks. Various lasers can be used, depending on the color and age of your stretch marks. In addition to fading the stretch marks, lasers will also encourage collagen production. This will result in smoother skin with a more even tone.
Get chemical peels performed on your legs. While they are commonly performed on the face, chemical peels can be done on almost any part of the body. A licensed practitioner will apply chemicals to the legs which will react with the top layers of skin. Over the next few days, your skin will flake away. Since the chemicals essentially burn the skin, expect some rawness and pain in the following days. After the skin heals, you'll see younger, fresher skin appear. The stretch marks will be less prominent after a series of peels.
Start microdermabrasion treatments on your legs. Dermatologists and other licensed professionals perform these treatments. A small device is used which is similar to a sandblaster. Tiny crystals buff away the top layers of your skin, unveiling fresher, more even skin below. You'll need a series of treatments but it does produce satisfactory results.
Eat a healthy diet, rich in zinc and vitamins A, C and D. All these nutrients have been shown to aid in skin cell production and promote healthy skin. Your skin will be more elastic and heal more quickly if you are properly nourished.