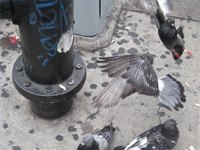 The thrill of New York City cannot be matched—and neither can a lot of the city's prices. Billed as one of the most expensive places to live, New York had rent rates of more than $1,000 for a crunchy studio more than a decade ago. Rates have only gone up since then. Couple rent with the cost of gourmet food, high-end shopping, astronomical car insurance rates and repair from the inevitable fender benders, and you're spending a fortune. It doesn't have to be that way. With a few simple tips and a little creative frugality, you can live cheaply in New York City.
Get a roommate. Your biggest expense in the Big Apple is going to be rent. If you can stand to have a roommate, go for it, as it will automatically cut your rent and utility bills in half. Granted, roommates are not for everyone, but they can save you a bundle if you can put up with one. Maybe you can find someone who works all night and is gone when you get home.
Eat in. Making your own food, even a simple sandwich for lunch, can shave off more than $20 each day. Shop for fresh fruit and veggies at farmer's markets, chain supermarkets or the corner store that has not yet realized that cereal is supposed to be $5 a box. You have dozens of stores to choose from, so comparison shop to find the cheapest food prices near you. Skip the gourmet groceries and dining out.
Garbage hunt. New York City has some of the most fantastic garbage. You'll be surprised at the perfectly fine things many people throw away. For ritzy hunting, hit an area like the Upper East Side or another place known for million-dollar condos.
Frequent thrift stores. The good things people throw don't away, they may donate. Stick with charity stores like Salvation Army or Goodwill, where things are going to be less costly than at the pricey vintage boutiques.
Find free events. Sitting on the corner and simply people-watching is free and can amuse you for hours, if not days, on end. You can also look for free listings for concerts, plays, street fairs and other gala affairs in the numerous city guides all over town or in the free newspapers. Make it a habit to read flyers posted around town, which will give you another avenue for finding free or low-cost entertainment.
Sell your car. Public transportation is the easiest, most effective and cheapest way to get around New York City. Buses and subways are everywhere. It's a real joy to walk through the city, which burns off calories and saves you transportation fare. Getting rid of your car will cut back on the cost of fuel, insurance, auto maintenance and repair, as well as the hassle of having to find a parking space everywhere you go, which can also cost you a bundle.