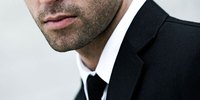 Aftershaves are often the first, and sometimes the only, skin care treatment that most men will ever use. As such, they share a special place among grooming necessities. In many cases, aftershaves are used daily. For this reason, finding one that doesn't irritate freshly shaved skin is of primary importance. Newly shaved skin is no different than recently ex-foliated skin. Old skin cells have been removed and new skin is exposed. This new skin will be extra sensitive for at least a few hours. This article will show you one method of creating your own natural aftershave that will heal, soothe and enhance your skin without potentially harsh chemicals. Don't let the lengthy ingredients list fool you: every ingredient plays an important role. This process is very simple.
Things You'll Need
Mixing Bowl
Spoon
Funnel
Labels
Strainer (or a Fine Sieve)
Amber or Cobalt Blue Glass Bottles with Tops
90 ml. Witch Hazel
¼ cup Vegetable Glycerin
10 drops Cedarwood Essential Oil
5 drops Neroli Essential Oil
10 drops Lavender Essential Oil
5 drops Cypress Essential Oil
2 Tbsp. Aloe Vera Gel
Mint
Rosemary
Rose
Sage
Thyme
Orange Peel
Pour the witch hazel into a mixing bowl. Add the drops of essential oil to the witch hazel along with the aloe vera gel and vegetable glycerin.
Stir the ingredients well to combine them. Pour this mixture into clearly labeled glass bottles.
Close or cover the bottles and place them in a dark, cool place.
Invert or shake the bottles once or twice daily for 2 to 3 weeks. When this time has elapsed, strain out the herbs through a sieve and refrigerate the liquid. Discard the herbs.
With the help of a funnel, store the aftershave in an amber or cobalt blue glass bottle (to protect the photosensitive ingredients).
Shake well before each use. Use as you would any other aftershave.