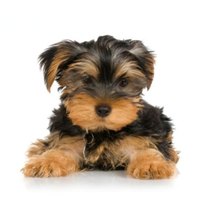 Yorkie puppies can be difficult to groom for several reasons. They are not used to it yet, and so they may be a bit squirmy and unruly at first. Also, Yorkies have thick, beautiful hair that can grow to be as long or longer than they are tall. If you choose to let your Yorkie grow this kind of coat, you will need to either take him to be groomed weekly or train him to let you do it yourself. One thing that you can do to make the weekly grooming session easier is to brush him periodically throughout the week.
Things You'll Need
Hairbrush
Spray in conditioner
Show your Yorkie the hairbrush. A puppy is bound to be curious about something that you are using to groom her. The easiest way to limit the amount of neck craning and wiggling is to allow her to get tired of the brush before you start to use it. Then she will not feel as if you are enjoying a toy that she is not allowed to play with.
Mist the fur lightly with the spray in conditioner. Use a very light conditioner or even a half-water, half conditioner mix. This will help you work through tangles and also keep the coat silky and smooth. Dampening the coat prevents hairs from breaking.
Start at the back. If your Yorkie does not particularly like the hairbrush, starting at the back end will make it easier to hold him still and also he will be less likely to pay much attention to you if he can be distracted by someone at the other end. By the time you get close to his sensitive ears and face, he will be more used to the sensation. Do not actually brush his face with a regular brush, though.
Use smooth, firm strokes. Tapping your puppy or teasing her with light, unpredictable movements will just make her jumpy and more playful. Smooth, firm strokes let her know that you are in charge.
Cut out serious mats with scissors. Particularly when your puppy is very young, you do not want them to associate serious pain with grooming. Instead of pulling out hard knots, you may wish to simply snip them with scissors. As your dog gets older you may decide to work more knots out instead of cutting in order to keep their coat smooth and uniform.
Give your puppy lots of praise. Praise your puppy as your brush him so that he knows you are happy with him while you are grooming. You can reward him for good behavior with a treat when you are done if you wish.