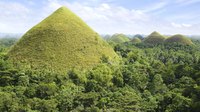 A total of 7,107 islands make up the Philippine archipelago, giving the country more than 22,000 miles of coastline. Where to start depends on your budget for safe transportation between the islands and whether you want to relax on the beaches of Boracay or hike Mount Pinatubo. Pay attention to the State Department's travel warning and avoid southern regions prone to attacks and kidnappings.
Where to Go
You may have your eye on these islands surrounded by the South China Sea, Sulu Sea, Philippine Sea, Celebes Sea and Luzon Strait for the sole purpose of taking a dive among colorful reefs and old shipwrecks. While a mecca for divers, the Philippines caters to all stripes of adventure tourists, with skydiving drops near the Taal Volcano, limestone climbing cliffs at Montalban, spelunking at Sagada and whitewater rafting on the Chico River. Culture and nature buffs can work their way through UNESCO's World Heritage sites, including the 16th-century Spanish colonial town of Vigan and the majestic caverns at the Puerto-Princesa Subterranean River National Park. In case of an earthquake, you probably want to be at the San Agustin Church in Paoay, a striking example of 17th-century "earthquake baroque" design intended to protect residents on these temperamental islands from temblors.
Getting In
Getting into the Philippines is fairly simple, as you'll be granted days of visa-free tourism upon landing in the islands. Make sure there are six months to go on your passport before it expires and be ready to show immigration officials your departure ticket. If you're planning to tour the islands for longer than 30 days, obtain a visa at the Philippine Embassy or a consulate before your trip. You'll need to submit your travel plans, including your return ticket out of the country, a copy of your passport and a passport-sized color photo, copies of bank statements and pay stubs to prove financial capacity, and a visa application. Filipino and English are both official languages here so you'll be widely understood, though the Department of Tourism does offer a list of Tagalog phrases to learn to "endear" yourself to locals.
Getting Around
With so much island-hopping to do, a trip to the Philippines will likely involve air, sea and land routes. Finding quality transportation, though, requires careful planning and consideration when booking. After taking an international flight into a main hub, such as Manila, domestic carriers, including PAL Express, Island Aviation, Seair, Cebu Pacific and Zest Air, shuttle passengers on small planes to regional airports and islands most easily accessed by air. Poor safety records on ferries, which range from outriggers to car-accommodating liners, make them a travel choice of last resort for U.S. government employees stationed in the Philippines. The State Department recommends avoiding most public transportation, including kitschy "jeepneys," out of safety concerns and sticking to metered cabs to get around.
Staying Safe
Terrorist groups and violent separatists have set up shop in the Philippines, but not all of the islands carry the same risks. The State Department's travel warning centers on the southern Philippines, particularly the island of Mindanao and the Sulu Archipelago stretching toward Malaysia. Tailor your destinations to the safer regions of the Philippines and check with the State Department before leaving to ensure that the security situation hasn't deteriorated. Natural threats can also ruin your vacation here. Volcanic evacuations are possible, such as when more than 33,000 people were cleared from near an erupting Mayon Volcano in 2009 and thousands evacuated again in 2014 when another eruption was feared. Monsoons can rip through the islands, and the wettest period runs from May through November. Plan your trip for winter through early spring for pleasant temperatures in the 70s and 80s and a decreased risk of torrential flooding and deadly typhoons.