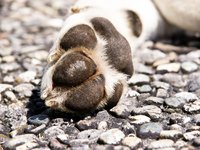 Something as small as a splinter in your dog's paw may seem insignificant, especially if yours is a large breed with large feet. However, putting pressure on the site can be painful to your pet. Correct splinter-removal and disinfection prevent the site from needing veterinary care. A splinter is not a medical condition; it's a sliver of material stuck in the first layer of skin. If your dog has a puncture wound, he should see a vet. If a splinter is embedded in a dog's outer skin layer, you might be able to remove it at home.
See Splinter Signs
When a dog has a splinter in a paw pad or between his toes, he will bite and lick at the site to try to remove it himself. Most dogs will hold the paw up and refuse to walk on it, or will walk in an uneven gait, trying not to put pressure on the area of discomfort. If a dog has a splinter elsewhere, he may lick at it. When you see the dog favoring a leg or gnawing on himself, control the canine, isolate the area and look for redness.
Remove the Splinter
Finding the head of a splinter in a dog paw, or elsewhere on his skin, can be a taxing situation. If the splinter site hurts, you're liable to get nipped when you try to inspect it. Get a helper to restrain and comfort the dog, or muzzle him -- or both. Move your pet to an area that has good lighting and secure a magnifying glass to find the splinter. If your canine companion has long hair in the area of the splinter, consider using an electric hair clipper to expose the splinter. With tweezers, grasp the exposed head of the splinter and pull it out with gentle pressure so it does not break off in the skin.
Disinfect the Paw
Clean the site of the splinter on your dog's paw with a sterile cotton ball, then soak his paw in a bowl of lukewarm water with bath salts for about five minutes to disinfect the wound. After drying his paw, pour an antiseptic liquid on the splinter site, then apply antibiotic ointment.
Don't Bandage the Site
If the sliver didn't penetrate more than an outer layer of skin, it won't need a bandage. Bandaging can be dangerous for a couple of reasons: It's easy to cut off circulation with a bandage, and dogs who tend to chew are at risk of ingesting the bandage material. Instead, fit your dog with an Elizabethan collar to keep him from licking the area.