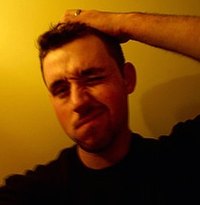 Scalp zits or pimples refer to a skin condition that involves inflammation of hair follicles. Clogged hair follicles form small elevated pustules or bumps on the head that itches and become flaky. It is often less serious but can be discomforting. Individuals usually don't realize that they have these zits--until they happen to come in contact with it while combing or brushing their hair.What causes scalp zits is not yet known. However, doctors suspect that pathogens such as yeast, bacteria, or even mites may have triggered these break outs when they invade and proliferate around the scalp. Proper scalp hygiene is often the best advice for individuals with scalp zits to prevent the condition from getting worse. But even if this condition is considered as a mild case, proper care should still be done to avoid severe inflammation and infection of the scalp.
Things You'll Need
Mild or baby shampoo
Salicylic acid
Cotton balls
White vinegar
Comb or hairbrush
32 oz. soda water
Unscented baby powder
Benzoyl peroxide
Topical antibiotic creams
Wash you hair and scalp with the proper kind of shampoo. You should use mild hypoallergenic shampoos that are designed to not only care for your hair but scalp as well. Try those that are made for oily skin to help prevent excess production of sebum or oil around the scalp that causes zits.

Purchase salicylic acid and apply it to eliminate scalp zits. For mild cases where you can easily palpate existing pimples around your scalp, you can try using salicylic acid for treatment. Make sure that you clean your scalp first when treating your zits. Then get a cotton ball put some salicylic solution on it, and apply it only on specific areas to where zits are at. Avoid trying to pour salicylic acid directly on areas that are not affected since it will cause excessive dehydration or dryness of the scalp.
Try using the white vinegar solution. This method may involve strong and unpleasant vinegar stench but this is an effective treatment for scalp zits. Wash your hair first with a mild shampoo to prepare your scalp for treatment. Dry with a towel and comb your hair. Position yourself on to the sink and slowly pour white vinegar on your head. Then massage your scalp to spread the solution, giving more emphasis around the affected areas. Rinse the vinegar with warm water. You can wash your hair again with mild shampoo to get rid of the strong vinegar smell.

Clear pimples off the scalp with soda water. This a potent natural method in dealing with scalp pimples and does not cause scalp dryness if used periodically. Prepare your scalp for treatment by washing it with mild or baby shampoo. Towel dry and then comb your hair. Position yourself to the sink and then carefully pour 32 ounce of soda water on your head. Massage your scalp to spread the soda water around its surface--giving more emphasis on affected areas. Then rinse with warm water.
Stop scalp break outs using unscented baby powder. Powder is an oil-absorbing agent, which makes it an excellent choice for treating scalp with zits and excess oils. Sprinkle an ample amount of unscented baby powder on your head. Massage it into your scalp especially around affected areas and then completely brush it off your hair. Apply this simple treatment every night before going to bed or in the morning before taking a shower.

Apply Benzoyl peroxide to get rid of zits on the scalp. Benzoyl peroxide helps to remove dirt and excess oils that clog hair follicles and cause zits. Make sure that your scalp is clean before applying the solution. Get a cotton ball, place some peroxide solution on it and apply on the zits. You should be extra careful not to touch unaffected areas, since this solution may cause excessive dryness. Benzoyl peroxide is also prone to causing bleaching effects; which means if you use this to treat scalp zits, there is a huge possibility that it can change the color of your hair. Serious cases of hair loss were also reported with the use of this treatment. So be very cautious--do not pour it on your head. Just use enough amount to specifically treat affected areas.
Use topical creams to get rid of infected scalp zits. Dermatologist often prescribe antibiotic topical creams such as clindamycin or erythromycin to eliminate infection and wipe away pimples off the scalp.