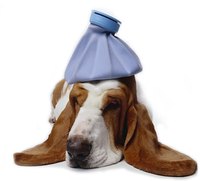 Stomach inflammation, also known as gastritis, is a problem that can plague dogs as well as other animals. Dogs, however, have a hard time communicating discomfort or pain, so knowing the signs and symptoms of stomach inflammation can help you recognize trouble before it gets serious.
Things You'll Need
Observe your dog. If you think that he might be having stomach troubles, keep a close eye on him and see how he reacts to normal activities. You will probably notice he is listless and uninterested in normal happenings in his environment, which is a symptom of stomach inflammation.
Take your dog's temperature. Stomach inflammation normally results in a slightly elevated temperature above 101.5 degrees. Anything above her normal temperature should be documented.
Watch for vomiting or diarrhea. A dog that is suffering from stomach inflammation will almost always vomit up partially digested food, as the lining of the stomach is painful and irritated and the food compounds her discomfort.
Withhold any type of food from your dog for at least 24 hours. Introducing any new foods into his already upset stomach will only prolong the inflammation and add to his discomfort.
Offer your dog a dose of a mild stomach medication such as Pepto Bismol. This type of medication coats the stomach and can offer relief for her until the inflammation subsides. Contact your vet to make sure the kind of medication you offer your dog is not harmful to her.
Keep your dog hydrated. Vomiting can be a cause for serious dehydration for your dog, so make sure he is drinking enough water. Do not allow him to drink large amounts of water, but offer small drinks at regular intervals.
Reintroduce a bland food, such as boiled chicken and rice mixed with a little plain yogurt, after your dog has stopped vomiting. Bland, low-fat foods will help her digestive system readjust to food, and the yogurt can put good bacteria back into her system to help keep her regular.
Call your vet if the dog does not seem better after two or three days. Prolonged stomach problems are a cause for concern and you should follow up with your vet to be sure your dog is not suffering from any serious health issue.