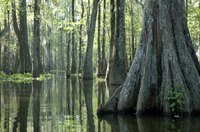 Bayous are swamps wearing veils of mystery, and it's this dark, dangerous beauty that captures the imagination. If the spirit of adventure directs you to Louisiana bayous, boats are your best option -- but not the only one. Expect gnarled cypress trees hung with Spanish mosses, and slow-moving, brackish water populated by alligators. Much of the terrain in Louisiana is watery lowlands, so you can visit a different bayou each time you come.
Bayou Lafourche Ranger Tours
Bayou Lafourche stretches 65 miles from Donaldsonville to Leeville. It connects so many Louisiana communities in the parishes of Lafourche and Assumption that it's known to locals as "the longest Main Street in the world." Dammed off from the Mississippi River a century ago, the water of Bayou Lafourche is no longer fresh, but it remains fun for boating adventures. National Park Service agents at Jean Lafitte Park and Preserve offer several bayou boat tours in spring and fall. The boats leave from the dock near the Wetlands Acadian Cultural Center in Thibodaux. Boat to the historic Madewood Plantation for lunch in the formal dining room, or visit the E.D. White plantation, childhood home of Supreme Court Chief Justice Edward Douglas White.
Atchafalaya Basin by Canoe
If you take a boat trip through a bayou in the Atchafalaya Basin, you travel back in time 300 years to experience the southeastern Louisiana seen by the first European settlers. The Basin stretches long, from Simmesport to the Gulf. One of the nations great swamp rivers, the Atchafalaya includes navigable bayous that lead through cypress swamps and past hardwood forests. Bring your own canoe or rent one along the way, and then follow one of the paddling trails mapped out by the Corps of Engineers in Lake Fausse Pointe State Park, the Bayou Teche, the Indian Bayou or along the Cajun Coast. Follow the reflective blue-and-white posts to stay on the paddleway. You can fish for bass, bream and crappie fish, or watch alligators and herons in their natural setting.
Private Swamp Tours
The southern Louisiana city of Houma is alive with Cajun culture and the Acadian traditions that seeped down south with French Canadians generations ago. Site of the "Swamp Thing" comic books, Houma borders on bayous, swamps and wetlands. In this area, you can select among myriad private swamp tours that take you through the bayou the easy way. Check out Cajun Man's Swamp Cruise to float along in a tour boat through Bayou Black while former Louisiana State Trooper Black Guidry plays a mean accordion. Or try Annie Miller's Son's Swamp and Marsh Tours, where the knowledgeable guide, Jim, takes you out on his boat for two hours and explains the differences between a swamp and a bayou while feeding alligators.
Land-Lubber Tours
If you want to see the bayous but can't stand boats, or alligators, try a bike or car tour of the area. WomanTours runs a seven-day inn tour that starts in New Orleans. Bikers need no more than moderate cycling ability to tackle the flat roads beside the Mississippi and through bayous to Sorrento, and they rest well in luxury inns of an evening. Alternatively, you can explore in your own car by following Cane River Road in a 70-mile drive from Natchitoches in north-central Louisiana. If you follow Highway 1 to Highway 494, then loop back on 119, you'll pass elegant plantation houses that seem to spring directly from writer Kate Chopin's novels, as well as bayous, truss bridges and small river communities. You can zip through the drive in one day, or linger longer, exploring the bayous, historic structures and Creole cultural sites along the way.