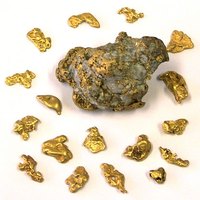 Today, investing in gold is easier than ever. You don't even have to leave your house or use the telephone. There are a number of stocks listed on top exchanges of companies exploring for and/or mining gold. Here we will help you figure out how to make money by investing in gold mining stocks.
Understand the two major categories of gold mining stocks. "Juniors," or exploration-stage companies that are acquiring properties and drilling for gold, and established gold producers. Both types have their pros and cons, but the less risky investment is definitely the established company. For the purposes of this example, let's try investing $1,000 in Yamana Gold, a Canadian company with gold mines in various stages of development worldwide.
Call your stock broker or sign in to your own online brokerage such as Fidelity or E-trade (see Resources below).
If using a broker, simply ask to invest "X" amount in Yamana Gold. Your broker should advise you on whether they think that is a reasonable investment or not.
If using your own brokerage account, navigate to "Trade" and then click on "Buy stock." Input the ticker symbol "AUY." You should then be asked how many shares you want to buy or, alternatively, how much money you want to invest. Check the current market price on your preferred financial website to determine the amount per share (see Resources below). Currently Yamana Gold is selling for $12.30 a share. To invest $1,000, we want to buy 81 shares (1,000/12.3=81).
Click on "buy with a market order" for the simplest kind of trade. A market order must be made while the NYSE is open and normal trade is taking place. You should receive confirmation that you have bought "X" number of shares of Yamana Gold.