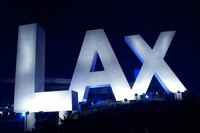 Long layovers often conjure images of cramped airport terminals with limited options for entertainment and dining. If you're stuck at Los Angeles International Airport with more than a few hours to kill, you can actually escape that humdrum setting and explore various segments of the city -- from the crystal blue waters of the Pacific Ocean to urban landscapes with lively arts scenes.
Transportation Options
The Metro Green Line, part of the city's light rail system, has its Aviation Station just five minutes from the airport, providing connections to other lines. The station is accessible from LAX via the free G shuttle, which you can board on the arrival level under signs marked "LAX Shuttle and Airline Connections." You can also pick up the complimentary C shuttle that will take you to the nearby City Bus Center, a massive transportation hub with numerous L.A. Metro buses and lines from other area cities.
Cabs typically take you to your destination faster than public transportation, but with a considerably higher price tag. Find taxis on the arrival level under yellow "Taxi" signs. For safety reasons, only authorized taxi companies are allowed to pick up passengers from LAX.
Big City Adventures
Take the Green Line; exit at Willowbrook/Rosa Parks Station, and transfer to the Blue Line toward the 7th Street/Metro Center Station for a one-hour ride to downtown L.A. Visit L.A. Live, an outdoor entertainment complex with dozens of restaurants and a four-story Grammy Museum showcasing historic music memorabilia, or take a walk around the Walt Disney Concert Hall, Frank Gehry's enormous modern steel structure that is home to the Los Angeles Philharmonic.
Make your way to Little Tokyo's Japanese American National Museum before grabbing a meal at Grand Central Market, the 1917 marketplace with more than 30 food stalls and produce vendors. Board the Blue Line south and exit at Downtown Long Beach for a day in the bustling beachside city. The journey takes approximately 1 hour and 15 minutes. Embark on a leisurely stroll along Shoreline Village, where colorful cottages house quaint restaurants and shops. Stop to sign up for a whale watching excursion or visit aquatic critters, including penguins and sea lions, at the neighboring Aquarium of the Pacific. Take a tour of the Queen Mary, a 1936 Art Deco ocean liner that's docked in the Long Beach Harbor, where it serves as a floating hotel and museum.
Surfin' USA
Santa Monica's Big Blue Bus line provides service to the beach cities of Venice and Santa Monica, accessible in 30 and 40 minutes, respectively, from the LAX City Bus Center. Venice is the ultimate So Cal spot for people-watching -- a beachfront town where hippie-led drum circles play next to body builders pumping iron at Muscle Beach, the city's famed outdoor gym. Get your own workout in by renting a bike or in-line skates and setting out down the Strand, the approximately 20-mile oceanfront pathway that connects some of Southern California's beaches. Venice also offers opportunities for fishing, racquetball, surfing, swimming and basketball.
Saunter down the iconic Santa Monica Pier, a carnival-like atmosphere dotted with arcades, amusement park rides, a small aquarium and a trapeze school. Pay a visit to Third Street Promenade, an outdoor pedestrian-only thoroughfare filled with brand-name chain stores, independent boutique shops, movie theaters and lively street performers. Santa Monica Place, a three-story upscale mall at the south end of the promenade, has a rooftop food park with sweeping views of the ocean.
School Days
The Big Blue Bus and Culver City Bus lines will deliver you to the UCLA campus in about 90 minutes. Walk through the grounds of the massive campus, and stop at Royce Hall and Powell Library, the school's ornate 1929 brick buildings inspired by Milan's 11th-century Basilica of Sant'Ambrogio. Visit Fowler Museum, free; it's home to artwork and archaeological finds from Africa, Latin America and Asia. Or tour the Athletics Hall of Fame, which celebrates such prestigious student-athlete alumni as Jackie Robinson, Kareem Abdul-Jabbar and Troy Aikman.
You can reach the USC campus in about one hour by taking the Green Line to the Harbor Freeway Station and transferring to the Silver Line, a Metro Busway Line, before exiting at the 37th Street/USC Station. The school is known for its renowned sports programs, and Heritage Hall is a three-story building that celebrates its numerous national champions, Heisman Trophy winners and Olympians. Walk across the street and explore the 114-acre Exposition Park, outfitted with a massive rose garden, an IMAX theater and three museums: the California African-American Museum, the California Science Center and the Natural History Museum of Los Angeles County. The park is also adjacent to the Los Angeles Memorial Coliseum, which hosted the 1932 and 1984 Olympics and is still home to USC's celebrated football team.