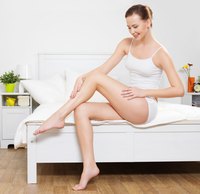 Even if you've clocked your fair share of lunges, squats and cardio, your legs may still need a little beautifying. Skin discoloration, unwanted hair and rough knees can all keep your legs from looking their best. Add cellulite to the mix -- which effects the vast majority women, no matter their weight or fitness level -- and you may want to hide in baggy sweats. But with the right tools, you can make legs look slimmer, smooth and night-out ready.
Things You'll Need
Razor
Shaving cream
Exfoliating body wash
Loofah
Body lotion
Self-tanner
Rubber gloves (optional)
Body foundation makeup
Body concealer
Sponge
Highlighting body powder or oil
Nude high heels
Knee-length, high-waist skirt
Dark tights
Dark heels (optional)
Beauty
Shave your legs with a moisturizing shaving cream. Scrub them with an exfoliating body wash or a rough loofah sponge, concentrating on rough areas such as your knees. Rinse off, then rub lotion evenly onto the skin until it is absorbed. Smooth, moisturized legs reflect light evenly and help hide imperfections.
Apply self-tanner in a circular motion, starting at the middle of the thigh and working your way out and down. If your knees are rough, smooth on an extra thin layer of lotion before you apply self tanner. Rub until the self-tanner is absorbed to prevent streaks. Wear rubber gloves or wash your hands with soap immediately to avoid orange palms.
Spray or squirt body makeup in a color that matches your skin into your hands and smooth over your legs to hide any veins or discoloration. Use a sponge to pat body concealer onto stubborn spots or visible veins.
Pat shimmery highlighting powder or body oil along the center of your legs from your thighs to your feet. The shimmer reflects light and draws the eye toward the center of the legs, making them appear slimmer and more toned.
Fashion
Wear a pair of heels that match your skin tone. All heels will make your legs seem longer and improve the shape of your calf muscles, but nude heels blend with your skin and create a seamless look from hip to toe.
Choose a skirt that hits at or slightly above the knee. Knee-length is ideal for most because it skims thighs, where many women carry weight or show cellulite, while still showing off the calves and ankles. Bonus points for a high-waist skirt -- the higher your waistline, the higher your legs seem to start on your body and the longer they look.
Pull on a pair of dark tights with a dress or skirt. Dark colors are slimming, and tights show off the shape of your legs while keeping skin imperfections covered. Match the tights to your shoes for an extra long leg line.