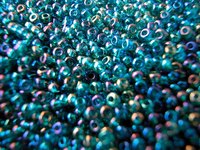 No matter what form your beading may take, purchasing your supplies wholesale can save you a lot of money. Many online suppliers will now sell beads at wholesale prices, especially if you buy in bulk.
Things You'll Need
Computer for online shopping
Bead supply catalogs
Seller's permit
Credit card
Search the Internet. There are thousands of bead stores online, most of which will sell beads at wholesale prices. Compare prices on different sights to find the best one to deal with. They will all offer special incentives or sale prices, but watch out for hidden costs buried in shipping and handling charges. Shipwreck Beads, Fire Mountain Gems and Beads and Pieces.com all offer great wholesale prices without a lot of paperwork.
Decide what you want to purchase. Most supplier that offer wholesale pricing will also have a minimum order limit. This amount can be anything form $75 to $200 dollars. Be prepared. If all you need is 1 hank of beads of a certain color, you might be better off going to your local bead store and applying for a discount there.
Apply for a seller's permit. If you are planning on selling your beaded pieces, it is always wise to apply for a seller's permit. This permit will allow you to get wholesale prices at many stores, as well as allow you to not have to pay your local sales tax. You will, however, need to file taxes for that permit each year. Most states allow about a 5 year "leave" of not showing a profit before you have to pay sales tax, but each state is different. Read the fine print closely.
Explore specialty shops. There are online stores and catalogs that deal with just one type of bead or crystal. Since they are specializing in just this type, wholesale prices are possible. If possible, call the customer service number, many times there are specials and discounts not advertised on the websites or catalogs that you might qualify for. Take advantage of them. The same holds true for Bead shows. There are many of these shows all across the U.S. Before buying anything, shop around and compare prices between vendors. Discounts abound at these shows and you can easily purchase an entire year's supply of beads at very little cost.