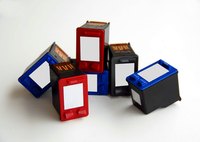 Replacing empty ink cartridges can get expensive, especially the Hewlett-Packard 21 cartridge. Many companies now offer kits to refill these empty cartridges. These kits not only save money, but they help cut down on waste. Refilling HP 21 ink cartridges is a lot easier than you may think. You may wonder why you didn't try it sooner.
Things You'll Need
Ink refill kit for HP 21 ink cartridges
Empty HP 21 ink cartridge
Paper towels or old newspapers
Remove the HP label from the top of the ink cartridge. This is a sticker on top of the cartridge containing the number of the cartridge. Set this aside.
Prepare your area for easy clean up. Place paper towels or an old newspaper on your work surface area. Next, remove the disposable gloves that came with the ink refill kit and place a glove on each hand. This will prevent ink from staining your hands during the refill and cleanup process.
Assemble the syringe. Take the needle that came in the ink refill kit and connect it firmly to the small opening on top of the syringe. Remove the cap from the color of ink you wish to refill, and press the syringe into the ink. Pull the plunger back to draw ink into the syringe and fill one-half to three-quarters full.
Place the needle into one of the small refill holes that are exposed on the cartridge. Slowly inject up to 20 milliliters of ink into the cartridge until full. If ink starts to come out of the printer head or the other refill holes, stop filling and pull back on the syringe to remove a small amount of the ink from the cartridge.
Place the original HP sticker over the refill holes. If the cartridge appears to be leaking, take a small piece of black electrical tape and place it over the original sticker, pressing firmly to secure the open areas over the refill holes.
Replace the cartridge in the printer and print a test page. You may need to print one or two sheets before the ink begins to print correctly. Once you have determined the cartridge is working properly, remove gloves and clean up work area.
Repeat the above steps when filling all ink cartridges. Be sure to use the correct color in the refill hole. You will be able to tell which color goes where after you remove the sticker on the cartridge. Be sure to rinse the syringe between each color refill.