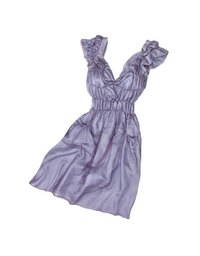 Everyone has things that they don't like about their body. When shopping for a new dress, keep in mind that the right dress can hide flaws. Keep your particular body type in mind when shopping. You can accentuate the positive and downplay the areas that you don't like. Whatever type of body you have, you can find a flattering dress to fit your shape.
Choose a dress that skims over the lower half of your body, if you are pear-shaped. You can also go with dresses that have an all over print. This is good for balancing out your figure. Make sure that the dress isn't too short, about an inch or two above the knee. Try to find a dress with an A-line skirt. You can also choose a dress with a low cut or embellished neckline. This will draw attention up and away from your lower half.
Go for trendy looks if you are petite. Empire waists will elongate your figure. Avoid dresses that are too poofy or girlish, they can make you look too young.
Avoid layers to try to cover up a plus-sized figure. Baggy dresses will actually make you look bigger. Choose a fabric that drapes on your body but that does not cling. A wrap dress is very flattering on a fuller figure.
Choose a longer dress if you are not comfortable showing off your legs. Find a dress with a skirt that hits midcalf or longer.
Look for a dress with details on the bottom if you have wider shoulders. A dress that has beading on the skirt or a colorblock hem is a good choice. A rounded neckline will also make your shoulders look more narrow. Avoid puffy sleeves, they will make your shoulder look even wider.
Hide a thick waist by changing or eliminating the waistline. Find a dress that has a waist line higher or lower than your natural waist. Elongate your torso by choosing an empire or drop waist dress. A deep V neck will serve to draw attention up and away from your waist.
Balance a top-heavy figure by choosing a dress with a plunging neck line. A full skirt can also help to balance out a larger bust line. Dresses with halter tops are also a good choice. A dress with an A-line skirt that hits about an inch about your knee will help to balance out a larger chest.
Look for a dress with fullness or embellishment on top if you have small breats. Choose dresses with a scoop neck. Accessorize with a layered necklace to add dimension to your bust. Avoid plunging necklines.
Choose bold colors and patterns if you are very thin. Find a dress with full sleeves and ruching in the waist. Use a cardigan or fitted blazer to add bulk. Try long, flowing dresses if you have very thing legs. Use a wide belt at your waist to give your waist some definition.