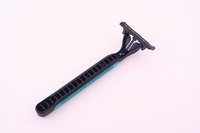 Shaving the pubic area is done by choice. Some people want a clean shave for the sake of hygiene or comfort. Pubic shaving is quite a challenging thing to do, especially for beginners. In particular, careful handling of the razor on the skin must be observed to avoid cuts or razor burns (red skin irritation).
Things You'll Need
Clean razor
Shaving cream
Scissors
Buy a razor blade that is of good quality. Purchase shaving cream. Using soap is not helpful in promoting an easy glide.
Cut your pubic hair short. Use sharp scissors, with a blunt tip, to prevent you from accidentally poking your skin. Gently pull your pubic hair taut and carefully clip the hair as short as possible. Trimming the pubic hair short provides easy access for a clean shave so that you can clearly see what you are doing, preventing you from cutting yourself.
Get in the shower and soak your pubic hair with lukewarm water for a few minutes before proceeding. Pubic hairs are coarse and bushy, so it will help when you soak them with warm water. The water makes the hair more pliable for an easier shave.
Apply ample amounts of shaving cream to your pubic area. This will help soften the hair even more and the cream makes the hair stand up, which allows for a cleaner shave. Shaving cream, or gel, protects you from getting nicks, ingrown hairs, or razor burns, since the products provide proper moisture that will enable you to glide easily over the surface without friction.
Begin shaving by pulling the hair taut with one hand and shave with your other hand. Carefully shave upward, opposite the direction of hair growth. Do not apply too much pressure when you shave. Rinse the razor after doing a couple of strokes to prevent hairs from accumulating on the razor and clogging it. Shaving against the direction of growth can be irritating to some--try shaving in the direction of hair growth instead.
Use caution. For males, carefully shave on the shaft of the penis and around the testicles in a smooth upward motion. For females, use one hand to roll the loose skin of the labia and then carefully shave going up along its edges to remove tiny hairs. Observe extra precautions when shaving along these tender parts.
Rinse the pubic area carefully with warm water and double check your work to make sure that you haven't missed any part of the surface. If you are satisfied with the outcome, dry the area with a clean towel and move on to the last step.
Apply some baby oil to the shaved area to keep it moisturized and protect it against skin irritation and itching. You may also want to use an over-the-counter product that will help to decrease razor burn and ingrown hairs. They are readily available at salons and drug stores.