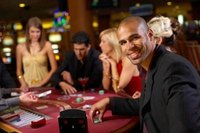 Spruce up your Sin City trip with a stay in a luxurious suite. Las Vegas hotels are world-renowned, but their suites take luxury up a notch. If you're on a budget, you can still score a deal on a suite whether you're heading to Vegas for a getaway, summer vacation or special occasion.
Plan to visit Las Vegas on off-peak days. Stay away from holidays and weekends if you want to get the best deal. Rates on suites in most Vegas hotels are often half the price during the week than on the weekends. There isn't really an off-peak or low season in Las Vegas, as tourists flock there year-round. However, those who stay in Vegas from Sunday to Thursday and outside of holiday weekends get the best deals on hotels. More tourists book during the fall and winter because the weather is cooler, but it isn't necessarily considered the city's peak season. But better deals abound--especially on suites--in the summer.
Check the websites of the hotels that you want to stay in and look out for special rates on the suites there. Hotels will often post great deals on their sites for guests. Check out the well-known and luxurious hotels on the strip such as the Bellagio, Venetian and Wynn, for example, which offer discount rates on off-peak days.
Book a vacation package instead of booking your flight and hotel separately when booking vacations online. Several travel websites offer this option, which slashes the price on hotels and/or suites when booked together with flights. Websites such as Travelocity and Hotels.com offer great deals on vacation packages. If you're interested in booking a vacation package through a hotel, the MGM Hotel in Vegas offers flight/hotel packages.