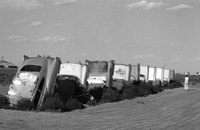 The irony about Cadillac Stonehenge, also called Cadillac Ranch, is that the row of half-buried vintage cars sits beside Route 66 -- both the cars and this historic roadway have been replaced by newer models. They remain curiosities and symbols of a time when Americans took to the roadways just to see what was beyond the horizon. Travel to Cadillac Ranch, located just outside Amarillo, Texas, and take a step back in time.
About Cadillac Ranch
Billionaire Stanley Marsh 3 -- the eccentric man refused to use III -- built Cadillac Ranch in 1974. The free exhibit is on private ranch land and the owners just leave the gate open from dawn to dusk. The 10 Cadillacs, ranging from model years 1948 to 1963, are buried nose first and covered with graffiti. The original artwork was done by a San Francisco-based art group called the Ant Farm, but that's been largely buried under the names and other drawings left behind by visitors. If you decide to leave an artistic contribution, be sure to take a picture. Chances are, it won't last long.
Nearby Amarillo
Amarillo is roughly 11 miles east of Cadillac Ranch, via Interstate 40. It's the closest major city, with the Rick Husband Amarillo International Airport just east of downtown. Avis, Hertz, National and Enterprise have car rental desks at the airport, so it's easy to fly in, pick up a car and head west. You'll find hotels and motels in the downtown core, which is part of the Route 66 Historic District, and along Interstate 40. There are golf courses, restaurants, shops and museums throughout the city and nearby.
The Drive to Cadillac Ranch
Leaving from Amarillo, head west on Interstate 40 and use Exit 60, which leads south to Route 66. Make a left on the old roadway and drive about a mile. You'll see the tips of the Cadillacs peeking up on the right-hand side of the roadway. Parking is allowed on the shoulder, so find a spot; grab your camera -- and spray paint if you're so inclined -- and walk through the gate.
Places to Stay
Motels and hotels along Interstate 40 are mostly chain brands, such as Comfort Inn, Super 8 and Holiday Inn. If you want something a bit more rustic, or happen to be traveling with horses, the Big Texan offers accommodations for man and beast. This is also where you'll find the Big Texan restaurant, which serves 72-ounce steaks. If you can polish it off within an hour, your meal is free. Only one person is allowed to do the eating. The original Big Texan opened in 1960 and was on Route 66. The current version is on Interstate 40, near Amarillo's historic district. Another rustic option, the Route 66 RV Ranch, also on Interstate 40, is only a mile east of Cadillac Ranch. In addition to camping for all types of RVs, the property has tent sites and monthly apartment rentals. The park was once known as the Sundown RV Resort.