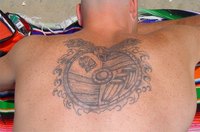 Hard day at work? Treat yourself to a massage. Stress, sore muscles and even headaches can be alleviated by a back massage. You don't have to wait for your significant other or an appointment at a fancy salon to get one, either. You can give yourself a back massage that is relaxing and effective.
Things You'll Need
Start near your neck. Firmly grasp the muscles on either side of your neck, with your thumbs outside by your shoulders and your fingers facing on your back. Slowly knead the muscles with the insides of your hands, making small, circular motions. Do a count of eight circles moving towards your neck followed by eight moving away from your neck.
Get to the middle of your back. Place your hands as if you were going to put your hands on your hips, but flip your fingers to your back and place them as high underneath your armpits as you can reach. Keeping your thumbs wrapped around your ribs towards the front of your body, rotate your fingertips in small circles. Do a count of eight circles moving towards your spine followed by eight moving away from your spine.
Move your hands down a few inches, still with your fingers on your back and your thumbs wrapped forward, and repeat the set of circles a little lower.
Keep moving your hands down your back repeating the set of circles until you've hit every area. The final move in this series should have your thumbs sitting at the top of your hip bones..
Make two fists. Take the flat part of each fist below the first knuckes and work them up your back in small, circular motions. Start at the base of your spine for two sets of eight, move slightly up to the mid back and repeat then take your fists as high as you can on your back and repeat once more.
Finish off your self-massage by giving yourself a hug. Wrap your arms firmly around yourself, with each palm grasping the opposite shoulder and squeeze as hard as you can for a count of eight. Exhale and release.