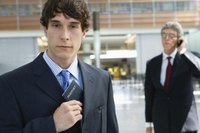 Europe has become desirable for many, especially Australians. A common misunderstanding is that the European Community members have one passport for all member states. Unfortunately, an E.U. passport does not exist as such and the only passports available are those issued by each member nation. You can, however, apply for one of the member's passport and still be able to travel freely throughout the European Union. But first you have to set up a residence in one of the member states.
Things You'll Need
Two application forms (completely filled in) with photograph
Valid passport (validity must extend until at least three months after the end of the planned journey)
Proof of sufficient means of support (such as bank statements, proof of income or an invitation letter and sponsorship declaration from your relatives/friends in a Schengen country)
Proof of health insurance coverage for your stay in the Schengen area to be presented prior to issuance of visa
Visa fees
Travel freely in any E.U. member state with a valid Australian passport for up to 90 days within a six-month period. If you're an Australian who plans to spend more time, you will have to apply for a visa from the embassy of the country in which you plan to reside and begin your process of obtaining a passport from an E.U. country.
Accelerate your goal of obtaining your visa first as you cannot just pack and go to your destination expecting everything to fall into place. If you are planning on working in your chosen country, you will need a work permit. For instance, if you want to live and work in France, you cannot even think about a work permit until you obtain a Schengen Visa. To make matters more complicated, you cannot obtain a work visa without an invitation by a prospective employer of that nation. Australians should obtain specific advice from each of the Schengen countries they intend to visit concerning their visa requirements.
Know who the Schengen members are. They are Denmark, Finland, France, Germany, Greece, Iceland, Italy, Luxembourg, the Netherlands, Norway, Portugal, Sweden and Spain.
The newest members are: Cyprus, the Czech Republic, Estonia, Hungary, Latvia, Lithuania, Malta, Poland, Slovakia and Slovenia.
Continue as a resident in your new country and in time you may apply for citizenship, thus obtaining a passport. Expect a long process of paperwork and expect to spend years after your receive your permanent residency permit. Follow your new country's immigration rules and renew your residency every one or two years as required. Generally, with residency gearing towards citizenship, you will have to reside legally within a specific nation for a period of five to 10 years before you can become a dual citizen of your new country and Australia.
Look for other legal possibilities that can shorten the process. For instance, if you are an Australian married to citizen of a European nation, the immigration rules are not as stringent and your citizenship and new passport can be expedited.
Know your heritage. If your parents or grandparents were born in Europe, you may be eligible to cut much red tape and apply within six months to become a citizen. This scenario requires quite a bit of research, paperwork proving the birth of either parent and other records to prove that they were European. This may require the services of a genealogy specialist and an attorney from that particular country, if you cannot obtain all requested documentation on your own.