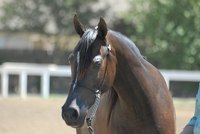 Part of the fun of showing your horse is making her look the best that she possibly can. You have worked hard to train her to the best of your ability, so do not detract from the picture with a poor show grooming job! The show-grooming tips in this article are widely used (with variations) throughout the Arabian horse show circuit. These techniques are designed to highlight all of the features that make your horse look like an Arabian. Even a plain-looking horse will look beautiful with proper show grooming.
Things You'll Need
Clippers with #10 and #40 blades (#15 and #30 optional)
Sandpaper or sanding block
Bathing supplies, including shampoo, conditioner and SOS pads
Rubber curry, body brushes and soft cloth or towel
Healthy Hair Care Moisturizer
Cowboy Magic or similar detangler
Body shine product, such as World Champion Pepi or Showsheen
Kiwi shoe polish, black for black hooves or natural for white hooves
Paper towels
Clear hoof polish
Baby oil gel
Optional: Vaseline
Use the #10 clipper blade to clip the horse's face, against the hair. Then, clip the outside edges of the ears, leaving a diamond of long hair at the tip.
Use the #40 blade to clip around the muzzle, the long guard hairs above and below the eyes (never the eyelashes themselves), the eyelid above the eye, the inside of the ears and the bridle path.
Use the #10 blade to clip the pasterns from the coronet band to the bottom of the fetlock joint. Remove the fetlocks.
Use sandpaper, an electric sander or sanding block to sand the hooves smooth.
Give your horse a bath, and condition the mane and tail. You may choose not to condition the mane or top of the tail if you are braiding them. Use an SOS pad to clean the hooves.
Once dry, groom the horse thoroughly as you would at home (curry, brush, Healthy Hair Care Moisturizer, rub with a soft cloth or towel).
Brush the mane and tail carefully and braid them if you are showing in a class that requires braiding. If not, use Cowboy Magic or a similar detangler before brushing.
Spray the horse's body, mane and tail with a body shine, such as World Champion Pepi.
Smear Kiwi shoe polish on the hooves (a paper towel works well). Use black for black hooves (unless you are showing in hand) and neutral for brown or white hooves. Allow to dry, then wipe off with paper towel.
Apply hoof polish to the hooves.
Apply baby oil gel around the eyes and muzzle.
Optional: Apply Vaseline or baby oil gel to the forelock and top of the mane and tail.