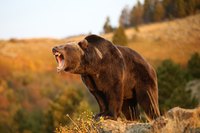 One of the paradoxes of heading out to enjoy nature involves the need to keep as much of it as possible away from you after dark. In defense of wildlife, most problems are caused by humans who feed animals or leave trash for them to investigate. Campers actually need to treat their sites as potential meeting places for hungry animals and take precautions accordingly.
Bear Necessities
Weighing up to 1,500 pounds, brown bears, as well as grizzly and black bears, pose the biggest danger to campers, who should follow specific steps to avoid attracting them to the campsite in search of food. Bears have an acute sense of smell that can even detect scraps submerged underwater and are famously tenacious in their foraging. Cook meals at least 100 yards from the sleeping area, remove -- before sleeping -- any clothes worn during cooking and leave no food or scented hygiene products in or around tents. All food should be secured in bear-resistant canisters and suspended at least 15 feet aboveground and 10 feet from the tree trunk overnight. Some parks provide bear poles for this purpose. For true peace of mind, invest in a battery-powered electric fence that will secure the perimeter of the campsite overnight.
Lesser Predators
Of the smaller animals capable of attacking humans, cougars and wolves are of greatest concern. Although either rarely threatens campers, small children are vulnerable if left unsupervised after dark, as are pets, which are best left at home for a camping trip since their food alone attracts wild animals. Survey the area thoroughly before pitching camp, looking for telltale signs of cougars, which leave distinct tracks, droppings and claw marks on trees. If a cougar or wolf does approach, make a loud noise and throw rocks, facing the predator at all times. As with cooking products, make sure to bury all human waste well away from camp. Many animals are attracted by urine odors. Dishwater, which carries food scent, should also be disposed of at least 100 yards from camp.
Safe Repellents
Although some backpackers sing the praises of products such as cayenne pepper or Tabasco sauce as a natural method of warding off animals, campers will find a plethora of ready-made, dependable repellents at outdoor retailers and camping stores, each targeting a specific critter. A can of bear spray, for example, will keep a bear at bay without harming it permanently, while snake repellent is a less noxious alternative to mothballs, which are effective in jamming the snake's sensory receptors, but contain naphthalene, a chemical hazardous to animals and humans. Campers can also find sprays both to repel skunks, which are notorious for nosing around tents, and to deal with the aftereffects of a skunk attack.
Night Lights
As any fan of survival shows knows, a campfire is the main natural defense for protecting a sleeping area from animal attack. Unfortunately, open fires damage the environment, can spread out of control easily and are banned in most national parks other than in designated fire pits. A powerful battery-operated flashlight serves as an adequate substitute to warn animals that you are there, especially one with a strobe or flashing function. Always carry a flashlight if you have to leave the tent during the night since the majority of dangerous predators are nocturnal.