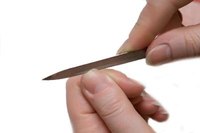 How to Patch a Broken Fingernail. It happens to all of us: your fingernail rips too close to your finger, causing you excruciating pain. Since you know the nail is just minutes away from snagging on an item of clothing, there's no need to peel off the rest of the fingernail. You can easily patch the broken nail, allowing it time to grow and heal.
Things You'll Need
Nail polish remover
Cotton balls
Toothpicks
Bonding glue
Scissors
Tea bag
Emery board
Nail strengthener
Nail polish
Remove any nail polish on your fingernail. Although this step isn't necessary, having a clean slate can help your nail stick to the adhesive better.
Use a toothpick to apply bonding glue to your broken fingernail. Be careful when using the glue, however, as it has a tendency to stick to anything that comes in contact with it. Press the two pieces of nail together for 1 minute. Applying pressure helps the bonding glue secure the nail back together.
Cut out a temporary patch from tea bag material about 1/2 inch by 1/2 inch if the patch is too large. Tea bags work well because the material in the bag is similar in composition to your fingernails. Some tears might not work with bonding glue, so after the tea bag is cut, glue the material to the broken fingernail with the bonding glue. Use scissors to trim the material once it dries, if necessary.
Smooth the jagged side of your nail with the rough side of an emery board. Apply a coat of nail strengthener as well as any other type of nail polish you choose.