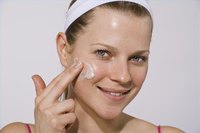 How to Care for Skin and Face. Whether you are fighting adolescent acne or beginning to worry about fine lines, learning how to care for your skin is an essential way to keep yourself looking young, vibrant and beautiful. While skin care varies slightly from person to person, a few general rules go a long way.
Things You'll Need
Mild cleanser (with pH balance)
Exfoliating scrub
Oil-free sunscreen (minimum 15 SPF)
Toner (optional for oily skin)
Wash your face twice a day with lukewarm water and a mild cleanser. Cleansers which are pH balanced for skin care are your best choice. They usually come in liquid form and are quite expensive, but a little goes a long way and in the end, your skin will thank you. Once you have finished washing, always pat your skin dry, avoiding rubbing.
Exfoliate your skin gently at least once a week to remove dead skin cells which clog pores and age skin. Choose high quality scrubs with fine grain exfoliate, such as salt or sugar scrubs and use on your entire body. The simple act of exfoliation will help you to look younger and control acne.
Use a high quality, oil-free sunscreen with a minimum 15 SPF as your facial moisturizer to kill two birds with one skin care stone. Moisturizer is essential to keep your skin hydrated and protected from the elements; however sunscreen is just as or even more essential. By using one product, you save money and a load of greasy residue on your skin. Sunscreen should be applied before you begin your makeup.
Apply a toner to your skin after washing and before applying sunscreen if you have oily skin. A light toner will help to deep clean the pores and remove any traces of oil and residue. Pay attention to your skin if you use toner, avoiding areas which become tend to become dry.