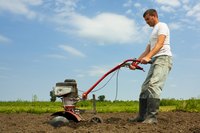 Without a doubt, using a rototiller to prepare a garden bed can spare you the agony of doing the work by hand. When selecting one rototiller model over another, however, you'll have a number of considerations. Before you bring home a tiller, consider the size of your garden, the job you want the tiller to do, your overall strength level and your budget.
The Size of Your Garden
Measuring your garden before you shop for a rototiller will be beneficial. If your garden is fewer than 1,500 square feet, then a miniature rototiller, sometimes called a cultivator, can work just fine for it. Such a tiller model has small tines in its front section. If your garden is between 1,500 and 5,000 square feet, then look for a front- or rear-tine tiller that has at least 5 to 6 horsepower. Preparing a garden that is more than 5,000 square feet requires the use of at least a 6-horsepower tiller.
The Extent of the Job
Whether your tiller will be used in a new, undisturbed area or an established garden is another consideration. A small, front-tine tiller is fine for weeding an area or for retilling a garden space that was used in the past. If, though, you want to create an entirely new garden bed, then using a rear-tine tiller is probably best. If clay or really hard soil is in the area where you want to put a garden, then using a rear-tine model with two tines, or tines that rotate in counter directions to one another, will help you break up that earth more easily than you could with a different style of tiller. A rear-tined model's tines will be the last machine parts in contact with the soil as you move forward while tilling; the machine's wheels won't repack the soil, unlike front-tine tillers.
Your Strength Level
Breaking up soil is not a simple job. Still, not every tiller does all the work. If you don't already have some level of upper-body strength, then consider selecting a rear-tined tiller model because it has more horsepower than a front-tined model. A front-tined model weighs fewer than 20 pounds, but it needs to be carried instead of wheeled when moved from one area to another area. Using a mid-size tiller also requires upper-body strength because the machine has to be held slightly tipped back as it is pushed forward.
Your Budget
While you consider all the other tiller aspects, also think about price. The smallest front-tine or miniature tillers cost less -- sometimes much less -- than the larger, rear-tine tillers. If you have established that you need a large tiller but you want to save money, then an option is to rent one from a rental supply store or even to combine forces with other area gardeners to buy one tiller that all of you can use.