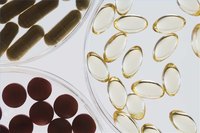 How to Best Absorb Magnesium Supplements. Magnesium is needed for hundreds of your body's basic functions, including regulating your heart and blood pressure and helping to metabolize sugar and fats. It also helps your nervous system and combats such problems as insomnia and anxiety.
Things You'll Need
Epsom Salts
Calcium Supplement
Magnesium Supplement
Take the chelated form of magnesium, such as magnesium citrate, glycinate or malate. This form is absorbed best by your body.
Combine magnesium with calcium. The easiest way is to take a balanced formula of one part magnesium to two parts calcium.
Take vitamin C at the same time. It helps make magnesium more biologically available to your body.
Bathe in magnesium sulfate, better known as Epsom salts. The mineral can be absorbed through your skin.
Reduce or eliminate your consumption of soft drinks. Their high level of phosphates causes magnesium to be depleted from your body.
Lower your fat intake. A high fat intake will also cause magnesium to be depleted from your body.
Watch your intake of vitamin D. High doses will cause magnesium to be leached from your body.
Decrease or eliminate alcohol use. It can lead to magnesium loss.
Check your prescription drugs. Diuretics, digitalis, tetracycline and corticoids are some of the medications that can lead to magnesium loss.
Watch your intake of foods high in oxalic acid. These include almonds, chard, cocoa, rhubarb and spinach. They can cause reduced magnesium absorption.
Decrease or eliminate your intake of animal proteins. High amounts can lead to reduced magnesium absorption.