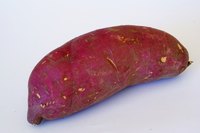 How to Best Absorb Vitamin A Supplements. Vitamin A is needed to maintain healthy skin, prevent night blindness and protect against cancer and other diseases; it may also help keep your blood sugar balanced. Vitamin A is fat soluble and is most commonly found in two forms: preformed vitamin A (or retinol) and beta-carotene.
Things You'll Need
Beta-carotene Complex
Vitamin A
Take vitamin A supplements with fatty foods, which will help with absorption. Vitamin A needs fat in order to be absorbed properly.
Take vitamins A and E together. Vitamin E is necessary for vitamin A to be properly metabolized.
Take zinc with vitamin A if you are using a zinc supplement. It also helps vitamin A metabolize.
Smoking may increase your need. Vitamin A is an antioxidant and can help protect against the free radical damage caused by smoking.
Avoid using mineral oil laxatives. They destroy vitamin A in the body.
Use antacids only when you really need to. They inhibit vitamin A absorption.
Check whether your prescription drugs inhibit vitamin A absorption. Some drugs do, such as colchicine, used for gout, and several cholesterol medications.
Decrease your alcohol consumption if you are a heavy drinker. Besides its other adverse effects, alcohol will interfere with vitamin A absorption.
Consider using beta-carotene. Beta-carotene is what gives foods such as sweet potatoes and pumpkins their yellow-orange color. It is a precursor to vitamin A, and is not toxic even in very large doses.
Take a beta-carotene complex rather than single carotenoids.
Take other minerals separately, since they can block absorption of carotenoids.
Use a micellized version of vitamin A if you are sick and in need of extra antioxidant protection. Micellized means that the vitamin has gone through a special process that has made it water soluble, so that it is now more quickly absorbed.