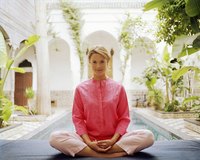 How to Pick the Right Hemline for Pants. Options abound when it comes to pants. Are you ready for capris? Or are tweedy cuffed trousers more your style? Read on for the lowdown on pant length for both men and women.
Things You'll Need
Men's Casual Pants
Men's Jeans
Men's Khakis
Mens' Dress Pants
Women's Causal Pants
Women's Dress Pants
Women's Jeans
Women's Khakis
Try them on and have a look. Trim, tailored pants should graze the top of your shoes. Pants with a wider bottom should be long enough to cause a slight break or dent in the front seam.
Move around a bit. Are your ankles showing? If so, go a bit longer unless you're a trendsetter.
Establish pants-to-shoes communication. For those skinny little pants that end at your ankle, opt for a streamlined ride. For women, that usually means flats or sandals, especially for calf-length capris. It can also mean a sleek little boot. For meatier trousers with cuffs or wide legs, a heavier shoe will look great. If you plan to wear heels, you're going to need a bit more length.
Check your choice. Longer pants with wide legs can make short folks look shorter, so beware.