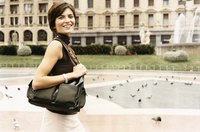 Unlike many fashion accessories, a handbag can be used every day and faces less-than-delicate conditions -- thrown on the car floor, set on the food-speckled table, bumped along through a crowded mall. You want a bag that's durable, holds the right amount of your stuff and lets you get to it easily, and -- most important for lots of women -- looks beautiful. While a purse can be a very personal choice, you should focus on a few key features if you want your bag to last and look good doing it.
Forget the Fakes
Yes, everyone wants to save a few dollars, but if you want a truly top-quality handbag, go for the real thing. Top of the line designer brands make purses with real leather or high-end faux leather, durable stitching, connecting tabs that hold on straps and handles, and quality fabric inside and out. Any hardware -- an essential part of a purse -- is solid and often specially made for each purse design. A knockoff bag skimps on all these important components, and it's unlikely to last long without the straps, stitching or metallic finish wearing out completely.
Study Materials
Genuine leather makes the strongest and most durable material for products ranging from couches to purses, and leather purses come in any color and design you want. Top-quality leather tends to be pricey, though, and even famous designers have started to use fake leather. The faux stuff can look and feel impressively real and is easy to clean, but generally will not last as long. If you want a bag that stands the test of time, go for real leather. Leather also gives you the rare advantage of looking better as it ages. Whether the leather is real or faux, and even if you choose a fabric bag, make sure it has thick -- preferably double -- stitching. Keep the bling on your bag to a minimum -- the less decorative hardware you have on your bag, the less likely it is that you'll lose a piece.
Clasps and Zippers
Unless it's a tote you take to the beach, most bags can't do without some hardware. If you want a bag that zips -- the best way to protect your valuables -- make sure the zipper is sturdy enough for the job. The zipper pull should be engraved with either the name of the handbag designer or a reputable zipper company, and the zipper itself should be thick and not flimsy. Look for durable clasps and connectors that twist and move to make the bag function at its best. For example, the hardware that connects the straps should spin and not stay static. The metal should be solid and not coated, and rounded in a pleasing shape with no sharp corners.
Shop Around
If you can't afford this season's new designs from a top brand's shop or the department store, head to designer outlets or fashion discount stores. A number of midrange designers also sell high quality, innovatively designed bags in a range of styles with a focus on moderate pricing. Research companies that specialize in handbags and leather goods and have been around for decades or longer so you know they're reliable. Such manufacturers often have strict quality-control standards, so the purse you purchase has already been tested for its durability. And, of course, the best way to choose a handbag is in person. If you have to shop online, be sure to go to a reputable site that has many photos -- including close-ups of someone carrying the bag -- and examine them carefully.