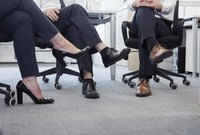 The style of shoe you choose to wear helps set the tone of your entire ensemble. Certain shoes, like flip-flops, evoke a summertime feel, while wing-tips have a vintage-inspired vibe. Consider comfort, function, color and occasion when choosing footwear. Having a closet full of versatile styles that suit many occasions saves you time when dressing for work or play. After you build a shoe wardrobe that works for the office, weekend and multiple weather conditions, you're ready to create your own personalized look.
Everyday Wear
Everyday footwear styles can ideally work for both on and off-duty looks. Try durable leathers in neutral hues, such as tan, white, black and brown, so they pair with most any office ensemble and save time when dressing for work. Pointed- or rounded-toe ballet flats are a comfortable alternative to heels when paired with a pencil skirt or slim pants. A durable men's shoe like a blucher or buck oxford is business casual with slacks or a suit and also works with casual jeans or corduroys. Unisex footwear styles like loafers and lace-up oxfords look sleek with a suit and bring tomboy charm to feminine skirts.
Warm Weather
Balance colors by pairing a bright statement shoe with a neutral outfit and nude, black or white shoes with bold clothing. Try a cherry red 2- to 3-inch heel peep-toed pump with a khaki pencil skirt and light summer blouse at work. A soft suede loafer is a lighter workplace option for men with suits or twill trousers. A tan suede loafer is also a sophisticated choice with slim-cut jeans or shorts after hours. Sandals are the most versatile off-duty choice for guys and gals because they pair with any dress, short or long; shorts; or pants. Canvas boat shoes are another classic summer option for guys with shorts and short-sleeved T-shirts.
Cold Weather
Flat or heeled boots are the most functional choice when facing extreme winter weather conditions. Rubber rain boots are the best at keeping feet dry; just bring indoor footwear if you're headed to work. Then guys can change to an oxford in black or brown leather, whichever matches your belt. Ankle boots offer more warmth for gals and are still appropriate for the office, and work with narrow pants or a skirt and tights. In drier weather, knee-high boots are the most versatile choice for women, since they look chic over skinny jeans; skirts of midi or knee length; and tailored dresses and leggings. Chukka boots are a functional option for guys since they have a higher top line to keep feet and ankles insulated.
Special Occasion
Special occasions are generally accompanied by a formal or semi-formal dress code. Whether for day or night, women should choose a heeled shoe and guys should stick with black or brown leather. The classic pump with anywhere from a 2-inch kitten heel to a 4-inch stiletto, is an elegant choice for a cocktail dress or formal gown. A higher hemline is great for showing off a jewel-embellished evening sandal with at least a 3-inch heel. Black or bi-color wing-tip shoes complement both a tuxedo and suit for guys. A balmoral shoe is the dressiest type of leather oxford that also pairs with formal suits for events like weddings and holiday parties.