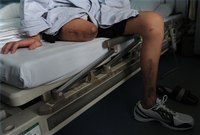 How to Prevent Scarring. Scars from acne, abrasions and surgery are difficult to prevent and don't fade immediately. However, if you start your battle plan soon after the injury you can lessen the severity of most scars.
Things You'll Need
Vitamin E oil
Exfoliating products
Silicone sheets
Antibacterial soaps
Sunscreen
AHA products
Consult your physician about how aggressive to be in managing any wound and ask about the likelihood of scarring.
Let your skin breathe. When damage to skin is new, do not aggravate it by putting anything such as bandages or ointment on the area.
Use an antibacterial soap to make sure the skin stays clean after the injury.
Avoid letting direct sunlight shine on the damaged area.
Apply a small amount of aloe vera to the area daily as the wound is healing.
Once the damaged area has healed and you are left with a scar, put vitamin E oil on the scarred area every night.
Apply a light moisturizer with sunscreen to the area every morning.
Talk to your dermatologist about using AHAs (alpha-hydroxyl acids).
Exfoliate the area very gently. This should only be done after the skin is completely healed.
For a thick, raised scar, try using silicone sheets. The silicone encourages hydration and softening of the scar. Wear sheet for a prolonged period of time to reduce the raised nature of the scar.
Talk to your dermatologist about acid peels or laser resurfacing for severe acne scars.