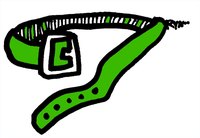 You fell in love with the perfect jeans, or so you think, and you'd know for sure if we could just try them on but you can't. Maybe the store doesn't have any dressing rooms or you just don't have time to try them on. That doesn't mean your potentially perfect pair of pants has to go back on the rack. You can tell if jeans fit without trying them on by using a few simple steps.
Things You'll Need
Jeans
Honest assessment of body size
Check the waist sizing. Close the button and zipper on the jeans then hold up the waist band to your own waist. Hold one side in each hand and wrap around your waist, with the fly in front, to see how far they reach. The sides of the waist band should come to at least the sides of your own waist, a little behind the pubic bone. This simple step can eliminate 90 percent of jeans without even stepping a foot into the dressing room.
Look at the cut and then look at your own shape. Once you've determined the waist band of the closed jeans goes at least halfway around your own waist, look at the cut of the hips, thighs and calves. If you have a pencil thin pair of jeans in front of you and muscular legs, you can put the jeans back now. Likewise, if your legs and hips tend to go straight down and you are looking at a pair of jeans with a roomy, hippy cut, but those back, too.
Gauge the length. Place the jeans again facing frontwards in front of you at your waist and see if the ends of the jeans at least hit your shoes. Since you don't have the jeans on, you'll want at least an inch or two overlapping your shoe or you may get stuck with floods, otherwise known as rain waters, otherwise known as pant that are too short and look dumb. Also make sure the jeans don't cascade over your shoes, or you'll find yourself cleaning the floor with them.
Do a once over on the overall style. If you know cropped jeans make your legs look so fat you can't stand it, don't pick cropped jeans. If boot cuts make your thin legs look like sticks, don't go for boot cut. Think back on the style of your favorite pair of jeans and those that you absolutely hate to make sure that the pair in front of you falls into the right category.