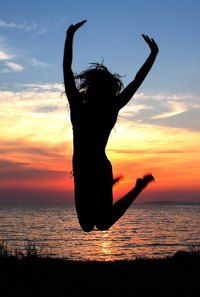 Examining your own cervix can seem like an intimidating task. Many women feel most comfortable having a medical professional deal with this often unfamiliar territory. However, there is no reason you shouldn't become an expert on your own body. It can be empowering and informative, allowing you to determine when you are fertile, and even to tell if you are dilated during labor. Learning your body's signs by examining your cervix is a skill that remains useful throughout the childbearing years and, with practice, can be easily performed by following a few steps.
Sit on a toilet--or put one foot up on a chair or the edge of your bathtub--with your knee bent. This allows your cervix to come forward and down, so that you can reach it more easily.
Insert your pointer and middle fingers (or your middle finger alone) into your vaginal canal. Push up as far as your arm will allow.
Gently move your fingertips around until you locate your cervix. The cervix will feel like a smooth, rubbery donut. In women who have not had children, the opening will feel like a small dimple. In women who have given birth, it usually feels like a slit, similar in shape to a football.
Note the texture of the cervix: During the infertile time of the month, the cervix will feel firm, like the end of your nose. During the fertile phase, the cervix will open slightly.
Note the position of the cervix: During infertile times, the cervix is lower than during the fertile phase. After you have had a baby, the cervix will typically be lower than it was before your pregnancy. When you are fertile, the cervix will move up in the vagina, and may be hard to reach.
Note the cervical fluid. When a woman is fertile, the fluid at the cervix is normally clear, slippery and plentiful. During infertile periods, cervical fluid is scant, and either sticky or whitish and creamy, like lotion. This type of fluid is also common during pregnancy.
You will probably find that examining your own cervix is tricky on the first try. As you keep practicing, however, you will begin to more clearly notice the changes your cervix goes through during the various phases of your cycle.