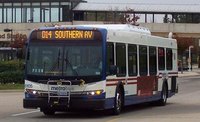 Washington, D.C., is a great city to live in and visit—largely because you don't need a car to get around. D.C.'s public transportation can get you almost anywhere in the city. D.C.'s subway, the Metro, is great for getting you to the main tourist sites, but the bus is also a great resource (and is cheaper). Learn how to conquer the D.C. bus system in a few quick steps.
Things You'll Need
Cash or a D.C. SmarTrip card
A transfer
A map of Washington, D.C.
To choose a bus line to take from home or your hotel, look at the buses that arrive at the closest Metro stations. Most of D.C.'s bus routes connect different Metro lines or run in areas not covered by the Metro. Many bus routes start at a Metro subway terminal and make their way across the greater D.C. area.
Learn to identify bus stops. They are usually located at the intersections of streets. Look for a tall sign with a "metrobus" logo that is dark blue at the top, white in the middle and red on the bottom. These signs will often have a long rectangular box wrapped around the sign post. These boxes give the times certain bus lines come to that stop.
Once you've found one of these signs, check the red section at the bottom of the sign. In it, you should see several number or letter combinations written in white. Those are the bus lines that service that stop. If you want to see a complete listing of bus lines and the stops they service, visit www.wmata.com, Metro's Web site.
Be mindful of the direction buses are heading. All buses have an electronic screen on the front, side and back of the bus that let you know which way they are headed and what line the bus is. The signs will list the last stop on the bus route. Know where your bus terminates on each end so you can get on the bus heading in the direction you want to go.
To board the bus, you'll obviously need some sort of payment. The bus will only accept cash or a SmarTrip card. SmarTrip cards are purchasable at several Metro stations or at Metro headquarters and cost $5. You can also purchase the card online at wmata.com. If you do order it online, purchase it in advance as it will take time for it to ship. Riding the bus costs $1.35 if you pay in cash and $1.25 if you pay with your SmarTrip card.

If you pay in cash, ask for a transfer slip. This will allow you to board the bus within a two-hour time period without having to pay again. Your SmarTrip card will keep track of your riding history, so there's no need to grab a transfer. If you're riding the Metro subway and plan on boarding the bus after, you can get a transfer slip at the Metro station. These machines are located by the escalators that take you to the waiting platforms. You'll still have to pay a fee of 45 cents if you do transfer from the subway to a bus.
Once you're on the bus, be mindful of which stop you want to get off at. Most buses will have another electronic screen inside and an announcer that tells you what stop is next. However, some Metro buses are older and don't have this feature, so pay attention to streets as you travel along. Once you know your stop is coming up, pull one of the yellow cords along the sides of the bus to signal to the driver that you want to get off at the next stop. A "stop requested" sign should light up at the front of the bus that will remind the driver that he needs to stop.