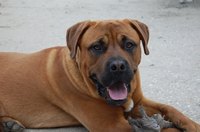 Dogs are adorable, and it's hilarious when they kick their heads back and let loose with a heady howl. You don't have to wait until your dog feels like howling to hear this lovely harmony; you can make a dog howl on cue. That doesn't mean stepping on your puppy's foot.
Things You'll Need
Harmonica or other way to produce a high-pitched noise
Determine what sound triggers your dog's howl.
Find something that mimics the noise that makes her howl, such as a harmonica or other instrument.
Use the mimicking device until he howls and then immediately exclaim, "Good dog!" and hand him his favorite treat.
Devise a cue, either visual or auditory, to use with the mimicking device.
Slowly phase out the mimicking device until she howls with the cue. Continue to use the mimicking device, the cue and treats until your dog has it down.