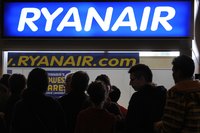 Even travelers who have yet to fly with Ryanair tend to know at least two things about the airline. First, the no-frills carrier offers ridiculously low fares, some of them payable with a single bill, to a huge network of destinations across Europe. Second, an aggressive phalanx of charges and penalties lie in wait for those who expect the same procedures and creature comforts of the more expensive competitors. Packing for a Ryanair flight is a challenge but not an insurmountable one. Be informed, be reasonable and be on time and those savings will stay in your pocket.
Keep the Cost Down
Passengers need to not only check in online and print their boarding pass, but also prebook any checked baggage, musical or sporting equipment and any infant paraphernalia. Mark all checked baggage with your name, address, telephone number and flight details. Passengers on Ryanair can check up to two bags, having prepaid for an allowance of either 33 or 44 pounds. The airline will not carry any single item heavier than 70.5 pounds or exceeding 31.8 by 46.8 by 46.8 inches. Cabin bags can be up to 22 pounds with a maximum volume of 21.6 by 15.7 by 7.8 inches, as well as one small handbag. Be warned that if a carry-on bag is over the weight limit, it must be checked, which incurs a hefty airport check-in fee.
Restricted Items
To clear airport security screening, passengers must keep liquids in containers up to a maximum of 3.4 ounces, carried in a single, transparent, resealable plastic bag no larger than 7.8 by 7.8 inches, up to one liter capacity. The liquids must be carried in cabin baggage and screened separately. Passengers with babies may carry milk powder, water and baby food, which may exceed the limit for other liquids. The same goes for liquid medication.
Hot Tips
To avoid any uncertainty and possible penalties for going over the size limit, buy the special Samsonite luggage directly from Ryanair's website which is designed to meet the airline's requirements. The simplest tip of all, though, is to carry everything you can in a single carry-on bag. Roll your clothes to save space and try to carry just a single spare pair of shoes, wearing the heavier pair. Layer up with your heavier, bulkier clothes, which reaps rewards in-flight because the airline provides neither pillows nor blankets. Bring a pair of earplugs too, to drown out the engines and the incessant advertising played over the aircraft speakers.
Special Considerations
Ryanair flies only point-to-point flights to secondary airports across Europe. In simple terms, this means that the airline has no responsibility for getting your luggage onto a connecting flight, and in some cases you might find yourself a two-hour bus ride from an out-of-the way airfield to the advertised city destination. Consequently, it is essential you keep all vital documents and cash on your person. Ensure that your carry-on luggage contains a standby set of clothing and toiletries to cover delays.