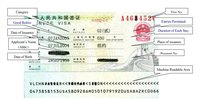 It is essential that you make sure your Chinese visa is still valid when planning a trip to China. The steps below are important items to go over when checking for the validity of your Chinese visa.
Was your visa issued for three months or six months? Look at your visa to find the words "Good before." To the right of this there will be a date. Will you be entering China before this date? As long as you enter China before this date, your visa will be valid until you leave.
Will your trip exceed the number of entries permitted? Look at your visa to find the word "Entries." To the right of this will be a number. If, for example, you see the number 2, then you are permitted to enter China twice in the dates specified on the visa. Be sure that you have not already used these allowed entries. If you have, you will need to obtain another visa.
Your allowed duration of stay is also on your visa. Underneath "Entries," you will find the words "Duration of each stay." Most visas say "30 days after entry," but find this on your visa to be sure. Will your trip be less than thirty days? This is important, because staying in China longer than the allowed duration can result in a hefty fine and make it difficult to obtain a visa in the future.
It is possible that your passport will expire before your return trip, so double check. You can find the "Date of expiration" on the Photo and Information Page of your passport.
If your visa (passport) don't meet the criteria above making it valid, be sure to renew it at the Chinese Embassy or Consulate in time to have a stress-free trip.