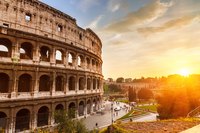 Almost 50 million tourists visit Italy each year, making it one of the most popular travel destinations worldwide. A hotbed of art, history, gastronomy and fashion, Italy packs outstanding appeal, and visitors will find it a particularly tourist-friendly country to explore. Numerous North American airlines organize package deals with discounted accommodation in partner hotels, while there is a good selection of group and special interest tour operators who take care of flights, accommodation and transport with a predetermined itinerary and experienced tour guides.
Pre-flight Logistics
As Italy is part of the European Union, visitors from North America do not require a visa for entry, but do need a valid passport. Children must have their own passport, too. Convenient for those arriving from other European countries, Italy uses euros as currency; ATMs are also in abundance in all major cities. Expect shops to be closed on Sundays and watch out for the "riposo" in the south, where businesses and banks typically close for a few hours during the heat of the day.
Get Packing
Electrical outlets vary considerably in Italy, so bring an adapter. Men should include long pants in their luggage to wear in the evening and both sexes should pack clothing with long sleeves for entry to religious sites. Shorts and mini skirts, as well as exposed shoulders, are prohibited in the Vatican. Be aware that footwear is a serious business in Italy. Pack an alternative to flip flops or sandals, especially in the evening, and socks for when wearing closed shoes for men. A sturdy pair of shoes with ankle support will come in handy if exploring ancient ruins in Rome or Sicily, for example.
Where and When to Go
Italy can be searingly hot during the summer months, especially in southern cities such as Rome and Naples. Many restaurants and hotels close up in August as the owners decamp to the coast and only tourists cram the cities. The summer period is also a time when hotel rates are highest, although the south is cheaper than the north. Northern Italy in winter is cold, while the south remains relatively temperate, around 50 degrees Fahrenheit. Rough Guides advises against trying to cover the entire country in one trip. A comfortable itinerary could visit the capital Rome and Vatican City, before heading north for the Renaissance beauty of Florence and Venice and the elegance and shopping opportunities of Milan.
Cultural Preparation
If not traveling with a tour guide, a phrase book will come in handy. Although English is widely spoken in the main cities, a little Italian goes a long way, but bear in mind that so-called Italian is really only the dialect of Northern Italy. Visitors to the south, or the islands of Sicily and Sardinia, will hear an almost unrecognizable dialect in use. Restaurants and hotels typically add a 15 percent service charge on to a bill, and visitors should tip washroom attendants. When dining, avoid the faux pas of ordering cappuccino after a meal or sodas during a meal. Ask the waiter for the check instead of waiting for it to be brought to you.