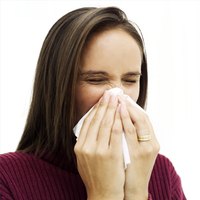 It's pretty much guaranteed that you will get a cold at some point. With over 250 different rhinoviruses running around, most people get at least one cold every year. Most colds last between two to 14 days and involve a stuffy nose, congested chest, cough, sneezing, sore throat and general fatigue. While there is no cure for the common cold, there are several things you can do to recover from a cold more quickly.
Things You'll Need
Liquids
Rest
Antibacterial soap
Cold medication
Steam
Vapor rub
Get plenty of rest. The most important factor in recovering from a cold is lots of rest. You will likely require more sleep than normal as your body needs to conserve energy to repair itself. Don't push yourself. Give your body the rest it needs.
Drink lots of liquids. It's very important to stay hydrated when you have a cold. Try to drink a lot of water but water-based liquids such as teas and juices are also good. You may try to drink hot fluids such as tea, broth or soup as they help to expand capillaries, allowing for more white blood cells to travel to the mouth and throat.
Take a hot shower or bath. The steam from a hot shower or bath can help to soothe a sore throat and drain mucus from the ears and nose.
Try a humidifier. If you don't have a humidifier, you can get a similar steam effect by filling a bowl with very hot water. Put a towel over your head and hold your head over the bowl, breathing in the steam. Steam can cause burns so make sure the water is not too hot.
Take cold medication that will address the symptoms of a cold. There are many over-the-counter medications that may help alleviate symptoms like a runny nose, cough, sore throat and congestion. You may try expectorants which will help you expel mucus more quickly. Throat lozenges will also help to relieve congestion and soothe the throat.
Wash your hands with antibacterial soap often. This will help prevent spreading your cold to other people around you. If you touch your nose, eyes, ears or mouth, make sure to wash hands immediately afterwards.
Raise your head while you sleep by placing an additional pillow under it. This will help to drain mucus from your head and relieve congestion pressure.
Rub vapor rub on your chest and throat. The menthol in the rub helps to clear breathing passages, allowing you to breathe more easily.