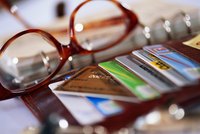 Credit card interest rates aren't set in stone, and sometimes all you to do to lower it is ask. According to a 2014 "USA Today" article, 65 percent of customers who request a lower interest rate receive it. Research and a phone call can save you hundreds or thousands of dollars in interest fees.
Maintain Good Credit
Maintaining a high credit score is essential to lowering your interest rate. Bankrate states a score of 720 or better will give you bargaining power and gets you the best rates available. It essentially means if you've made your credit card payments on time and kept a low balance, you stand a better chance to get an interest-rate break since you present a minimal risk for the company.
Just Ask
You can just ask the credit card company for a lower interest rate. If you're a long-time customer with a history of timely payments, Forbes says you'll probably get a "yes." All the same, be prepared to point out the current rates of their competitors and let them know you're willing to make a change. Check Bankrate.com for the national average credit card interest rates. It should show you all of the current interest rates other credit card companies are offering based on your credit category.
Transfer the Balance
When the credit card company refuses to budge, you can transfer the balance to a new credit card with a lower interest rate. Balance transfers aren't right for everyone, but they can help you consolidate debt and temporarily provide a lower rate. If you're considering a balance transfer, you'll want to check the credit card's balance transfer fee, the length of the introductory period and the normal interest rate. Under the Credit CARD Act of 2009, the introductory rate must last a minimum of six months.
Request a Forbearance
If you are facing a financial hardship, ask about a forbearance or debt management plan for temporary relief. Programs vary depending on the company, but most offer help when you experience a difficult life event, such as a job loss or medical emergency. A forbearance can suspend your payments or reduce your interest rate for a few months to help you get back on your feet.