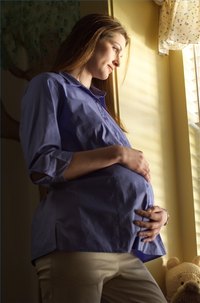 During pregnancy, the breasts expand due to increased hormonal levels, in preparation for the coming baby. The swelling of the breasts can cause great discomfort, including tingling sensations, soreness and great sensitivity.
Remove your bra and any constrictive clothing.
Place two fingers at the outer portion of your breast. Try to use the pads of your fingers rather than the tips.
Move fingers in a circular motion while applying gentle pressure. As the breasts can be very tender when swollen, keep the pressure very light. You can increase it as it feels comfortable.
Begin to move your fingers in a circular pattern around the entire outer areas of the breast. Make sure to cover the entire area, and concentrate on those areas that are particularly sore.
Continue the circular massage pattern as you move your fingers inward toward the center of the breast. Keep massaging until you have covered the entire breast, from the outer edges to the nipple.
Apply a cool compress to the breasts if you continue to experience discomfort after the massage is complete.