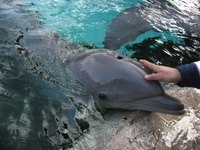 Destin, Florida is a beautiful vacation destination that edges along Choctawhatchee Bay. Not only is it a great substitute for the more well-known Ft. Lauderdale, but it hosts world class golf courses and attractions for the whole family.Emerald green waters are "a-luring" for fishermen, and the white sandy beaches are hard to beat. If you are looking for a more unique experience look no further than Destin. Swimming with dolphins has been described as everything from fun and exciting to a serene religious experience, and Destin can meet your desires here as well.Got your swimsuit on? Let's go swim with Dolphins!
Things You'll Need
Advanced reservations at Florida's Gulfarium
A swimsuit
Transportation to and from the Gulfarium
Must be at least 7 years old
First, go to Gulfarium. This marine park is the place to go for your dolphin swim. It is located in Ft. Walton Beach, Florida at 1010 Miracle Strip Parkway Southeast.
Arrange to meet the spotted dolphin, Kiwi! Encounters are available seven days a week from 9am to 4pm. You'll need to make your reservation in advance by calling 1-800-247-8575 Ext. 2 or locally call 850-243-9046 Ext. 2.
Save your pennies. Participants need to be at least 7 years old and an encounter cost about $150.00
Want to just watch? You'll still need to pay. There is a fee of $25.00 at this time for adults to view the swim.
Bring your camera. Video cameras and traditional ones are welcomed and don't seem to bother Kiwi.
Put on your suit. On your day you will meet with a trainer where you will learn all you need to know to interact with the spotted dolphin. Before you leave you will have her eating out of your hands.