Cardiovascular exercise is a healthy activity and helps lose unwanted fat and weight. It burns a lot of calories, and it's a great way to work up a sweat and feel to energized. Some people find cardiovascular exercise a little too boring at times, and even aggravating to knees and other joints. It is possible to achieve and maintain a lean, toned body without doing any cardiovascular exercise.
Things You'll Need
Gym membership or home gym
Motivation
Strength train. Strength training offers a myriad of health benefits: stronger bones, increased flexibility, increased lean muscle mass and reduced body fat levels. You don't have to be a bodybuilder in order to reap the benefits of strength training. Utilize a strength training routine that works all the major muscle groups of your body. It will go a long way towards making you a strong, lean and healthy individual. A consistent strength training routine will drastically improve your body composition and overall sense of well being and it will raise your metabolism. The stronger and more efficient your body becomes, the easier it will be to shed excess fat and keep it off.
Incorporate calisthenic routines into your normal workout regimen. Calisthenics, including pushups, dips, chin-ups and squats are a great adjunct to a normal strength training regimen. These types of exercises use your own body weight as resistance, and are great for developing a balanced and symmetrical body while working your muscles in ways that are a little different than traditional weights and machines. Calisthenic exercises are also a great way to give your body and your metabolism a short jolt, as these exercises drastically raise your heart rate for short periods of time. If you combine a number of these exercises back to back, with only small rests in between, your calorie burn will be drastically increased.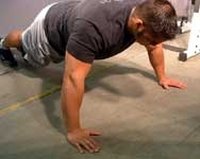 Overhaul your diet. Strength training and resistance exercises are only half the battle when it comes to having that toned and lean body. If your diet is poor and is filled with a lot of junk, you will never be able to have the body that you desire. Focus your diet around clean foods such as lean cuts of meat, low-fat dairy products, ample portions of fruits and vegetables, and unrefined whole wheat breads and pastas. Foods like cakes, pies, pizza and hamburgers are great for your taste buds, but they do nothing to help you achieve that flat stomach and lean body. Save the junk food for special occasions. Focus your diet on foods that are nutritionally dense and filling; disgard the foods that are devoid of real nutrition but are packed with fat, sugar and excess calories.