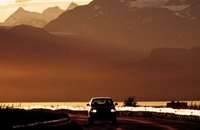 The skyrocketing cost of gas has severely curtailed a lot of people's long-distance summer traveling. Sticking closer to home and "making a day of it" is an answer to this problem. That way you can still have family time together without breaking the budget. Day trips are the key. Here are just a few ways to plan one.
Things You'll Need
Plan your budget. Calculate how much you are willing to spend, as this will factor into how far you can go and what you can do once you arrive. Make sure to include food for everyone going, possible entrance fees and gas costs, then add a cushion for incidentals and emergencies. Once you have this in place, the fun can begin.
Decide how far you want to drive. How much time do you want to spend in the car? For the first-time day tripper, it is recommended to start close and work your way further out. To this end, your best resource to start with will be a state, county or area map. It should show all the local towns, cities, parks (local, county and state) for at least a 200-mile radius surrounding your home. This will give you approximately three to four hours of driving each way.
Make the decision of where to go fun for your family. For instance, you could take all the names of the locations that people want to visit and place them in a hat. Then have one family member choose one or two each time you want to take a trip. This may take a bit of homework on your part first. Be sure there are actually places to explore wherever you may go.
Hit the books (or, more likely, the Internet or phone). Most towns, cities and counties have a Chamber of Commerce that is a wealth of information. Many of these are on the Internet. Simply do a web search on the name of your destination. Look for activities, tours, events and items of interest that will intrigue all members of your family. Continue with your research by calling some of these places and finding out other information such as entry fees and tour charges. Factor these into your budget for the trip. Look for any free events, such as concerts in the park, art/craft shows and wine-tasting tours. Look for any parks where you could spend a few hours picnicking, hiking or swimming.
Hit the road once you have all your plans in place. Make sure you have something to occupy family members during the drive. This can include music, car games and fun quizzes about where you are going. Plan a few munchies for the car as well. Remember that the more entertained your traveling companions are, the less complaints you'll hear during the drive, especially from any young ones that come along.