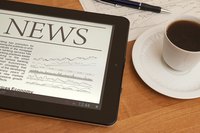 Newspapers face ever-increasing competition as more news and infotainment sites appear on the Internet. With free classified advertising services such as Craigslist disrupting this revenue source, selling display space is critical for legacy media outlets. Using competitive advantages to emphasize your unique selling differential can help sell more print ads.
Sectional Advantage
One advantage newspapers have over other forms of advertising is their ability to target potential customers by subject matter. Sections such as real estate, autos, home and garden and sports can tie advertising opportunities to them directly. For example, sports bars will naturally want to be in your sports section. Expand your advantage by placing specific advertisers near particular sports coverage areas. Place nursery and landscaping advertisements on pages with content about gardening and lawn care while positioning paint- and furniture-store ads on pages with interior decorating tips.
Sell Timeliness
Newspapers allow advertisers to control the day or days on which their ads appear. This helps retailers who want to get to potential customers just before the start of the weekend rush, or marketers who want to promote their goods and services on specific days of the week to boost revenue. Analyze each potential customer in terms of their ability to benefit from timed ads and include this benefit in your sales pitch.
Co-op Dollars
Manufacturers have a long history of providing cooperative advertising money to their retailers. In this kind of agreement, a manufacturer agrees to pay for part of an ad's cost if the retailer mentions the manufacturer in the ad or includes the manufacturer's logo or product. However, many small-business owners might not be aware of these free marketing dollars. Promoting co-op advertising helps your potential advertiser find marketing dollars to start an ad campaign or increase the scope of an existing one.
Sponsored Content
Some publishers now offer sponsored content programs to their advertisers. This allows a business to get space in a newspaper that provides readers with valuable content rather than a simple advertising message. Unlike advertorial content, which is created by the advertiser, sponsored content is created and written by the paper's reporters and editors. Although you must follow U.S. Federal Trade Commission rules regarding sponsored content, you'll be able to include the sponsor in the article. This helps position the sponsor as a credible expert in its space and increase consumer confidence in its products and services.
Zip Code
Newspapers can deliver targeted advertising into homes in specific locations. Depending on circulation, you might be able to increase the sale of advertising by offering packages by zip code. This helps business owners who don't want to waste dollars advertising to customers who don't live anywhere near their stores. Talk to your circulation department about its ability to deliver different papers to different zip codes. Next, meet with the printing department to determine the cost of printing different versions, such as north and south versions, with a limited number of unlike pages. Run the numbers to determine if you can make a profit by offering zip-specific advertising.