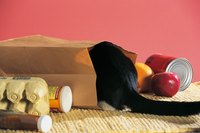 The best way to reduce stud tail in an intact male cat is to have him neutered. There's plenty of other benefits offered by neutering, but altering your cat eliminates the male hormones usually responsible for stud tail. If your cat is already neutered -- or is female -- regular cleansing and degreasing of the tail can help to control the problem. Stud tail doesn't hurt your cat, but it looks -- and feels -- unpleasant.
Stud Tail
Formally known as supracaudal gland hyperplasia, stud tail occurs when the sebaceous glands near the tail go into overdrive. That results in an oily residue along the tail, perhaps accompanied by pimples, fur thinning, a foul odor and a skin infection near the tail's base.
Stud Tail Treatment
Your vet can recommend shampoos to reduce the oil, but you might have to bathe your cat's tail once or twice daily. An alternative is having your vet or groomer periodically shave the tail. If there's an infection, your vet can prescribe antibiotics for treatment. Brush your cat's tail regularly to prevent oil accumulation.