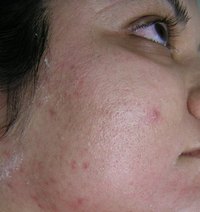 Acne scars can sometimes be worse than the acne that caused them. Scars can vary greatly, according to the severity of the acne. Often, moderate and severe acne can leave deep scars but mild acne can even cause significant scarring. After acne disappears, scars can form which usually go away within a year but there are also acne scars that are permanent. Thankfully, there are things you can do to treat acne scars and reduce their presence.
Things You'll Need
Facial scrub
Sunscreen
Retinoid cream
Laser treatment
Microdermabrasion
Bleaching cream
Use a facial scrub to exfoliate your skin. Exfoliation helps to remove the top, dead layers of skin. With regular exfoliation, you'll unveil the fresher, cleaner skin below the surface cells and scars will be less visible.
Wear sunscreen every day. Any degree of sun exposure can lead to skin damage and this damage impedes your skin's ability to heal itself. Protect your skin with daily sunscreen and you'll experience faster scar healing.
Ask your doctor about prescribing a retinoid cream. Retinoid creams are formed from vitamin A and when applied topically, they increase cellular regeneration. This means that your skin will repair itself more efficiently and your acne scars will heal faster.
Consider laser resurfacing treatments. Laser treatments are used to essentially burn away the top layers of skin. Your skin will then regenerate over the burned away areas, essentially replacing the scarred skin. Since laser treatments are very harsh on the skin, proper aftercare is essential. You also need to choose a time when you can get away from things for a few days. Your skin will be red and unsuitable for public appearances.
Try microdermabrasion. A certified technician will use a small sandblaster-type device with tiny crystals on the surface to even out your skin. When done repeatedly and professionally, it can greatly reduce the appearance of your acne scars.
Apply a bleaching cream to your scarred areas. Scars are usually darker than the surrounding skin. A bleaching cream can help lighten the scars so they blend in with the rest of your skin.