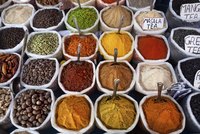 Tandoori temptations and curry delights may pull you to the wares of every street chef in India, but avoiding the traveler's diarrhea known as "Delhi Belly" means minding rules about food and drink safety. E. coli can ruin any vacation, so avoid certain cuisine and be prepared with meds in case the bacteria strike.
Wash Your Hands
If you sit down for a traditional meal in India, you may be expected to eschew the knife and fork and grab portions with your hands or at least pinch mouthfuls between your thumb and index finger. Ensure this dining etiquette doesn't bring germs into your mouth. Wash up with hot soap and water, and carry a bottle of hand sanitizer for those meals where you can't get to a washbasin. The Centers for Disease Control and Prevention recommends sanitizer composed of at least 60 percent alcohol to get the job done right.
Safer Drinking
If water isn't boiled or in a sealed bottle, don't drink it. Contaminated tap or well water has led to plenty of disease outbreaks in India, and even though tourist facilities may seem cleaner it doesn't mean the water is okay to drink or even use to brush your teeth. Ask that a drink contain no ice unless you know the cubes have been made out of purified bottled water. Enjoy hot coffee and tea freely, but don't add milk unless it's been pasteurized. Beware juices that may have been made from concentrate with tap water. Carbonated soft drinks and water are fine to consume, as are beer, wine and bottled fruit juice.
Avoid Certain Foods
Despite the delicious smells of a street vendor's dishes, do not obtain food or drink here. And despite yearning for the catch of the day, avoid seafood. Barracuda, sea bass, red snapper and other popular pescetarian choices are often contaminated with toxins that don't cook out of the meat; raw or undercooked meat is a no-no as well. Pick meat that is cooked in a tandoor oven, where the temperature gets hotter than many other modes of preparation. Also mind the temperature of your foods: once-hot dishes that have been left out and assumed room temperature should be avoided. Only eat fruits and vegetables that have been washed in disinfected water, a practice generally followed by five-star hotels, and default to produce that can be peeled or cooked. Avoid ice cream that doesn't originate from a reliable source and take your eggs hard-boiled. Eat lightly until your body adjusts to the new environment and other stressors of a long journey. Don't hesitate to ask about the preparation practices behind your meal, and if eating from a street vendor is your only option watch the preparation to ensure that meats and veggies are cooked thoroughly.
Meds to Pack
Talk with your doctor before venturing to India, and include your specific locations and anticipated length of stay in the conversation. Ask if recently developed vaccines to target DeIhi Belly symptoms before they start would be beneficial; most travelers should also get a Hepatitis A shot, according to the CDC. It's wise to have in your bag both an antibiotic that works well on bacterial gastroenteritis and an antidiarrheal medication. Your doctor will tell you when you need to start taking the drugs, usually if you've had more than five episodes of diarrhea in a 24-hour timeframe. Seek medical attention if diarrhea last longer than three days or is accompanied by other worrisome symptoms such as severe abdominal pain, fever with chills or bloody diarrhea.